Sports and Loyalty Marketing Help Papa John's Bring in the Dough
When most fans watch the Super Bowl, they root for one team or the other. This year, as Papa John's Bob Kraut sat in the stands, he knew he'd be a winner no matter what the final score. Not only has the brand been the official pizza of the NFL and the Super Bowl since 2010, but it also has an endorsement deal with Denver Broncos quarterback (and Papa John's franchise owner) Peyton Manning, and is the official pizza for the Seattle Seahawks, as well as 18 other teams and 15 stadiums.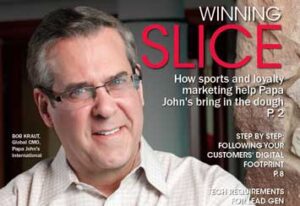 "What we like about our relationship with the NFL is that live sports is one of the broadest audiences you can have on TV," says Kraut, global CMO and senior vice president for Papa John's. "It fits with the usage of the product. Watching sports is a shared occasion and pizza fits well with that."
This year, Papa John's—the third largest pizza takeout chain in the U.S. behind Domino's and Pizza Hut—was one of the main sponsors for the Super Bowl Boulevard in Times Square. The brand gave away 50,000 slices of pizza to hungry fans—"we gave out as much as we could make," says Kraut.
Papa John's big commercial splash during the game was a spot featuring "Papa John" himself, founder John Schnatter, with Peyton Manning and retired quarterback Joe Montana, who helped lead the San Francisco 49ers to Super Bowl victory in 1984.
In the spot, the latest in a series when Schnatter and Manning have traveled back in time to 1984 (coincidentally, the year Papa John's was founded), the duo accidentally lock the keys in their time traveling car. They get home, lament that they couldn't have brought 1984 back with them—and then notice Montana in the back of the car.
The ad, which got loads of promotion through PR, spotlighted a code that people who ordered online could use to get a coupon for a free pizza starting the day after the game. The goal of the promotion was to increase store traffic and sales post-football season.
Kraut notes that Papa John's doesn't use celebrity endorsements simply to hitch its wagon to a star. Rather, it looks for individuals who have a personal equity that fits with the brand. "Peyton's values are consistent with ours, and as the owner of 21 franchises in the Denver area he has a stake in the brand's success."
How does Papa John's gauge the success of its sports marketing efforts? "We look at promotions like this on a high level—does it deliver the audience?" says Kraut. "Does it give us visibility and promote the leadership of the brand?"
Secret Recipe
The brand's strategy has been pretty much the same for 30 years. While many "big box" national pizza chains try to compete on price, Kraut says Papa John's looks more to product quality and customer satisfaction.
"We don't compromise on ingredients, we ship fresh dough to our stores," he says. "It can be a challenge. Price competition has been destructive—our pizza costs more and we have to charge more, but people are paying the price. We target the part of the market who has a bit more means, and we've been very effective doing that."
Beyond folks who enjoy a good slice, Kraut says the target audience is (not surprisingly) sports enthusiasts and heads of household. They aren't necessarily affluent but have a higher income than average. They are brand loyal and not on the younger end of the pizza-buying spectrum, so they're a little better placed to ride out economic fluctuations.
In 2001, Papa John's was the first national pizza brand to establish online ordering. Today, 45% of the brand's individual orders are placed online, with more and more of those orders coming in via mobile devices. "That's important, because people who order online buy more," he says. "And it's also important because it gives people greater access to the brand."
Overall, media has become more gradual, Kraut notes. "You have to be in all these places, and messages have to be scaled to different devices. The channels are just getting broader. Still, you can't get anything that works as fast or is as powerful as television. And people aren't watching less TV—they're just adding to their viewing choices."
Join In
In 2010, the brand created the Papa Rewards program, offering members a free large three-topping pizza for every 25 points they earn.
"The market is so price sensitive, and this creates a relationship and another point of connectivity," Kraut notes.
When it was launched, there was a large promotion done on the store level, offering perks like free pizza for sign-ups. Now, the brand is working to leverage all the data it has collected, creating more sophisticated segmentation schemes to deliver more targeted rewards and offers for customers. "We've got their loyalty and now we want to evolve," says Kraut. "The next generation of marketing is leveraging big data."
"Our big data program will help us take our email program and remix it as well," he adds. "Right now, email is a mass channel and we want to use it for what it is meant to be, a more precise method of delivering more targeted messages."
Papa John's takes care when implementing initiatives like the loyalty program to be respectful to franchises. "They can view marketing as simply a way we spend their money—we need to show them how this will ultimately benefit them."
Social marketing is something Kraut says is best handled on a national basis. His experience with social extends back to 2009, when he was vice president of marketing communications at Pizza Hut. At the time, the brand didn't have a social media strategy, so he ran a contest to choose a "Twitern" who would be the brand's voice on Twitter.
Five years later, at Papa John's, the social process is more sophisticated, with a community manager and a vice president of integrated content and advertising overseeing the brand's social brand. "I view us as being in the content business socially, rather than the advertising business," he notes. "People who like or follow you want to feel like they're getting the inside scoop."
On Facebook and Twitter, content ranges from the expected timely placement (during the Olympics, a post told followers that you didn't have to be 'Team Cheeseburger' or 'Team Pizza'—you could be both with their Cheeseburger Pizza) to Throwback Thursday posts like photos of the first Papa John's, which was housed behind the founder's father's tavern.
While digital is the future, direct mail is still a big part of Papa John's local marketing efforts. The brand has a print shop, Preferred Marketing Solutions, at its headquarters in Louisville, KY, which creates customizable pieces for franchises to order.
As not everyone is yet connected online 24/7, direct mail is still essential, says Kraut. "Our direct mail messaging is similar, but obviously more tactical.
"For us, marketing is a demand creation accelerant. There's a lot happening—we're not necessarily in need of transformation, but we are transforming and are positioned strongly for growth."
Foreign Food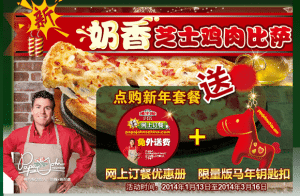 Internationally, Papa John's has 1,045 stores. While Papa John's is an established entity in the United States, globally it's a new and emerging brand, says Kraut.
While the basics of how it operates stay the same around the world, there are some key differences in other regions. In China, for example, the carryout pizza model isn't so prevalent. "In China, households have multiple generations living under one roof. They have smaller households and less disposable income," says Kraut. "While I might prefer to bring a pizza home, people in China want to go out to eat."
Other differences? In Asia overall, online ordering outpaces the online volume in the U.S. The U.K. pizza market is developed at a similar level to the U.S., but in India, franchises have to work with infrastructure challenges such as proper roadways in certain areas to facilitate delivery, and supply chain challenges.