Setting up Shop for 2017? Turn an Eye Toward the Competition
While marketers of all kinds are looking for ways to use up the 2016 budget and set up shop for 2017, many are relying on metrics to indicate what worked and what didn't.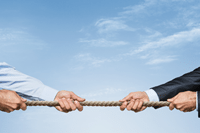 KPIs like click-throughs, open-rates, bounce rates and the treasure trove of Google Analytics give a lot of information about how your year's marketing strategy fared—particularly what was wildly successful, and what failed abysmally. However, the industry admits that content is very hard to measure. This year, rather than sifting through the hundreds of platforms and tools to understand what you did and how it worked, it's time to turn your attention outwards and understand what your competitors did and what that means for you.
Given the extreme proliferation in types of content that companies are putting out—from e-newsletters to webinars, social content to white papers, infographics to podcasts—an audit can seem overwhelming, instead, decide what your business priority is and work backwards.
Here are three main strategies for approaching your competitive audit this holiday season.
1. You want to own a topic
While all brands want to be the foremost thought leader on their industry, the reality is that for 90% of brands, it's an uphill climb to beat every competitor on all, or even many topics. What is possible, though, is becoming the foremost thought leader on a particular topic and using content to bolster and communicate your expertise. By aligning content marketing efforts with sales priorities, you can narrow the topic that you'd like to own and better understand the potential foothold that your competitors have on the subject.
For example: a financial services organization has decided to double down on its retirement account offerings, particularly targeting older customers. Looking at its competitive set, it found that a month ago, a competitor began hosting webcasts on financial wellness in older years. If possible, listening in to the next webcast will give clues on whether both companies are spreading the same competitive message and whether there's a gap in the market that needs to be filled or if you're better off focusing efforts elsewhere.
2. You're the underdog, but you don't know where to start
Content marketing can mean many, many different things and the pressure to be everywhere is very real. Rather than setting out to write a white paper, host a podcast series, tweet three times daily and publish a magazine, look at competitor behavior in order to learn where there may be an opportunity and garner learnings when establishing your own strategy. Beginning with social channels is a good solution, since information is free and public. By understanding the average engagement that your leading competitors are getting, you can establish a benchmark for where you should focus your efforts.
Look at app-based investment services Acorns and Stash. Acorns is a leader in the industry and its social feeds indicate as much, with nearly 5,000 followers on LinkedIn, 40K followers on Twitter, and 72K likes on Facebook. Stash, a lesser-known competitor logs less than 1K Linkedin followers, 8K on Twitter, and 14K on Facebook. However, when looking at Acorns' social channels, its Linkedin page has just two posts, though there are 5,000 people tuned in. Posts on its Facebook page receive likes in the mid-twenties—low engagement for the number of followers it has. This suggests that the audience on that channel isn't very engaged. For Stash, there's an opportunity to double down on Linkedin efforts, as the audience isn't being fed any competitor content on the topic, and Facebook hasn't proven fruitful.
3. You're pursuing a new market
Many brands are pushing sales internationally, meaning that marketers are faced with a whole new world—no pun intended—of content possibilities and obstacles. Not only are there some platforms and channels that are more popular overseas than others, but some aren't even options to choose from, which can be particularly challenging when a brand has found success on one platform or another. In this case, look to organizations that have built a steady consumer following—regardless of industry—and see where their content lives.
Consider major brands like Slack or GoPro. Both of these companies have found success with content posted on platforms that are highly engaging in the U.S. (Medium and YouTube, respectively) but are banned in China. For either of these players, expanding efforts into China would mean finding new homes for their content—and starting over in building a following. Rather than going in blind, looking at where successful American brands have put their content marketing efforts when making a similar move will offer guidance to make an informed investment.
While these are just a few different considerations, the lessons here hold true no matter what your brand's 2017 goals may be. By understanding what your competitors are doing, you're not just being savvy—you're being smart. Begin by auditing what you've been doing, setting concrete goals for the future, and then evaluating where you could—or should be. After all, if you're spending time creating quality content, it means nothing if no one sees it.
Ken Williams is managing director at Imprint.
Related articles:
7 Content Marketing Strategies To Squash Your Competition
Using the Buyer's Journey to Evaluate Content Marketing Success
Creating a Winning Content Marketing Strategy