Search Helps Arbor Grow Senior Living Populations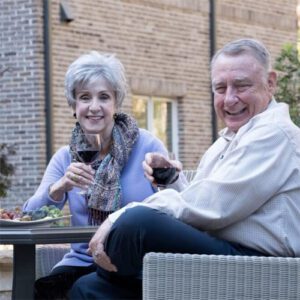 An integrated marketing strategy powered by search is helping The Arbor Company connect with seniors and their caregivers.
Arbor manages 40 senior living and assisted living communities in 11 states, and has 12 different brands. Like just about every other demographic today, seniors are starting their buying process with search, making it a crucial channel for Arbor to have a strong SEO presence in, notes Chris Harper, vice president of communications.
While the company markets to a number of different personas and segments, the typical target for assisted living decisions is often the potential resident's oldest adult daughter or daughter-in-law. She is usually age 55 or older, and is searching on behalf of a parent or in-law in their 80s.
The challenge is not only to gather qualified leads, but to capture those leads before they reach out to a paid referral agency, which can be expensive, says Harper. Arbor works with SmartBug Media on its marketing program, and what performs best varies from geographic market to market, and even community to community within those markets.
In many areas, each individual community is promoted with a different strategy, But in Atlanta where Arbor is based, the company has a concentration of communities. It found it was starting to compete with itself on Google Ads, so marketing for the area was streamlined for all brands, to funnel down to one landing page.
"We haven't found the secret sauce that works everywhere, and maybe that's just because there isn't one," says Harper. "We just have to find what works best for each market and community."
---
You May Also Enjoy:
---
People tend to look for a senior living community only five to 10 miles from where they currently live, only going further if they're looking for a particular destination or want to be closer to a relative. While referrals from family, friends or healthcare providers are helpful, many people start the process to search for a community via search. Bing is the most popular search engine for the older target demographic, says Harper, most likely because it is the default engine on Microsoft Windows, and some folks don't bother to change it when they get a new computer.
SEO works well for Arbor, and offers for educational content like ebooks, checklists to guide the first visit to a community, or cost calculators help build the relationship early in the funnel, says Mary Cate Spires, marketing strategist at SmartBug.
Direct mail works well to connect with independent seniors looking to make the next step. It doesn't work as well for potential residents or caregivers who are in an emergent situation and need to move quickly to find a residence for a loved one who can no longer live on their own.
"It's not for someone at their wit's end. It works higher in funnel, to encourage independent seniors to take a tour early in their process, or to attend a seminar, happy hour or concert series," says Harper. "People visiting newer communities are more interested in events, while [prospects] who lean toward older communities are more concerned about the [facility's] reputation of care in the market."
For independent living, the sales cycle from first touch to move-in is about 146 days. Because these seniors are anticipating selling their home and making a major life change, they go back and forth in their decision making, he says. "They consider whether they need to make this change and whether it is the right thing for them."
The scenario is different in assisted living, because there is an immediate need, he says. "A lot of those decisions happen a lot faster."
Once someone becomes a sales qualified lead (SQL) and are in the system, they often receive an email a few days later from another contact within the organization. "It helps move the needle and make sure they don't fall through the cracks," says Harper, noting that Facebook Advertising is also helpful to drive prospects to content, because seniors are such as fast growing audience on Facebook.
ROI is gauged by several factors, with data matched back to different marketing efforts via the CRM system, including the number of SQLs generated per source, and the number of actual move-ins generated per source.