Q&A With Progress Software CMO Melissa Puls
Melissa Puls brought nearly 20 years of experience in marketing and business development in the high-technology industry when she took on the role of CMO at Progress Software last year. Since then, she has spearheaded the realignment of the company's marketing organization with several key appointments and has worked on the integration of several major acquisitions for the company, most recently bringing mobile app development company Telerik into the fold. Chief Marketer sat down with Puls to talk about the challenges of team realignment, integrating new acquisitions from a marketing standpoint, bringing digital experience marketing to the forefront and technology's role in her department.
CHIEF MARKETER: Tell us about the challenges of realigning the structure of a marketing team.
MELISSA PULS: The first thing that we did was to identify a vision and understand what the company needed from us as a marketing team. We had an offsite meeting where I brought an extended leadership team together and we talked about where we come from, what we have achieved in the past, where we are today and what we need to do in the future to be a world-class marketing team. First, we really wanted to become a digital-first marketing team. The world of marketing has evolved and we needed to become much more digitally focused in terms of our marketing strategy. We also want to be more data-driven—not only using data within the four walls of our organization, but also outside the organization and thinking outside-in as we message our solutions.
The biggest challenge was finding the right balance in an organization that is business unit-centric, because we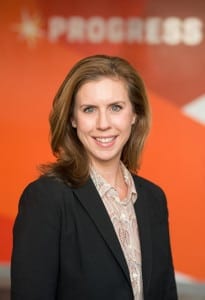 have three business units within Progress, and those business units all have different go-to-markets with different buyers and different personas. We needed people within the organization who could be very focused on the unique requirements of those BUs, and yet we still needed to have functions that were scalable that could serve all of the business units.
From there we started to build out what our organizational alignment would look like.
CM: How did your team handle integrating new acquisition Telerik into the Progress family?
MP: Right after I started, we announced the Telerik acquisition and marketing was the first function within the company that immediately brought the Telerik organization and the Progress organization under one umbrella. We really needed to lead the charge on that. We have a great combination of marketers from the Telerik organization, folks from Progress, as well as some new hires we have brought in. There were some pretty significant cultural differences between Telerik and Progress, and they both brought really great strengths. Progress has a very stable, reliable and customer base that has been loyal and has stayed with us for a really long time. Progress marketers have done a really great job of fostering and building customer relationships. On the other side, Telerik is fast-paced, very digitally-driven in terms of marketing strategy – much more of a start-up, bringing in new customers at a very fast pace. What I tried to do was take the best of both of those and bring them together into one culture. Communication was really important, and getting folks around a table to talk about their journey and where they came from and where they need to go was also important. We created a new vision, a new set of initiatives and goals that we could all work toward together leveraging each other's strengths.
CM: How will digital experience marketing be driving your team moving forward?
MP: I definitely saw huge opportunity, particularly with progress.com, to move the needle in our digital strategy. Progress has not had a significant focus on digital marketing in the past, mainly because it was such a customer-centric strategy that was more about building and extending relationships through account-based marketing. The first thing we needed to do as a team was to understand the importance of this and the impact that it could make. Marketers are now in a unique position to influence much deeper into a selling cycle than we ever have before, and it all starts with phenomenal content. What we're focusing on first is building content aligned to the stages of the buyer's journey that can take them from one step to the next.
CM: Tech solutions have changed the way marketers do business. How do CMOs keep on top of emerging tech solutions today?
MP: Marketers today have to be technologists on some level, and have to understand how technology can impact marketing. I like to make sure I have a really strong technical team around me that can balance creativity and technology. Every leader on my team has some experience with marketing technology. We are currently upgrading to Eloqua 10. We have several marketing automation systems within the company, we went through a very comprehensive review to determine what to use going forward, and we decided on Eloqua 10 for lots of great reasons and we will be implementing that across the board. I think technology is the core and you can't be in marketing today without a strong technology background. We spend a lot of time working with IT and incorporating them into our organization and our big initiatives, so they understand that this is driving business, not just fun technology that marketers like to play with.