Marketing Strategies From NFL's SVP of Social and Influence Marketing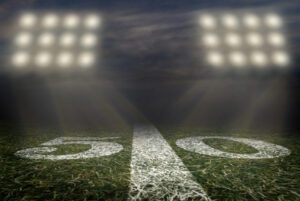 The NFL is a year in to a new influencer marketing strategy that engages sports fans across four key verticals: music, fashion, gaming and fitness. Chief Marketer spoke with Ian Trombetta, the NFL's svp of social and influence marketing, to learn how the league is catering to the next generation of sports fans with influencer marketing strategies, gaming tie-ins and a rigorous content strategy. Following are insights into the league's strategic approach to social media and influencer marketing strategy.
Macro/Micro Influencer Approach
Using a proprietary tool to identify micro influencers who have an important voice within their communities, the league now works with more than a thousand influencers to create content across its social platforms. In addition to macro influencers like the streamer Ninja, the league has partnered with influencers with smaller followings, including the digital media strategist Karen Civil, with whom the league hosted a luncheon themed around female empowerment within sports. It's about "identifying folks who are true fans of their teams and then creating opportunities for them to create content in each of their markets, whether that be with players or with their fan bases," Trombetta says.
Diversified Content Strategy
The league has seriously upped the number of social content creators in each market and also embeds them with specific players, like "JuJu" Smith-Schuster and Russell Wilson. "We've added what we call 'live content correspondence.' They are out there creating social-first content that we can then use to proliferate across our social handles. It's given us much more diversity in terms of what our content looks like on social platforms," Trombetta says. The league posts close to a thousand pieces of content a week through its social platforms and has upped the number of highlights posted in real time. "We use social as a way to give real-time information to our fans and continue to drive interest to those who may be more casually following along on their mobile phone," he says.
Delivering Content in Real-Time
Part of the NFL's social strategy entails feeding players with real-time content that they can post as soon as a game ends. "They have a reservoir of content that they can then choose from to post on their handles," Trombetta says. "It could be still images, but also highlight videos that we've created for them with cleared music. We know that that content will perform well for those players. And it's not just the top players, it's everyone from offensive linemen, defensive linemen, running backs, etc. every single week. It's great way to celebrate players and their great achievements, but also drive engagement with the game overall."
Read on for additional insights into the NFL's social and influencer marketing strategy, including the league's gaming tie-ins.