NFL Draft Partners With FaZe Clan on First Esports Clothing Collab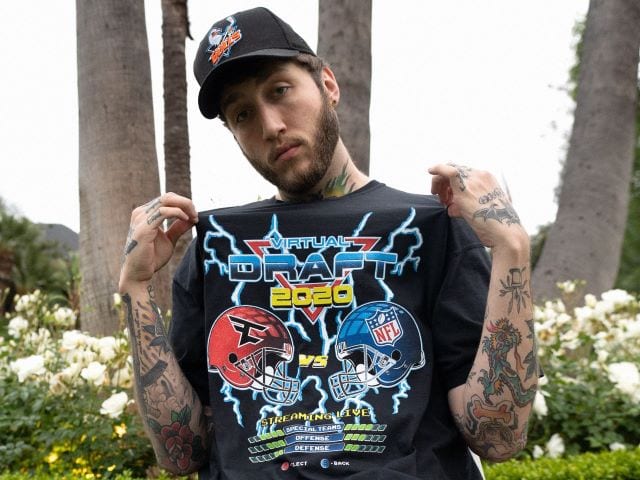 The NFL has teamed up with FaZe Clan, a global esports and entertainment organization with teams across multiple games, including Call of Duty, Counter-Strike: Global Offensive and Fortnite Battle Royale, to create a limited-edition merchandise collection to be released April 23, the first day of the 2020 NFL Draft.
The NFL, like so many other sports properties, is adjusting a new COVID-19 reality. Last week, the league announced the launch of its first-ever "Draft-A-thon," a virtual fundraiser to benefit COVID-19 relief efforts to take place as part of the Draft. The virtual event, to be live-streamed on the NFL's social and digital platforms and featured during the three days of Draft coverage on broadcast networks, also marks the first-ever clothing collaboration between the league and a gaming organization. The collection's creative is inspired by both the virtual draft and football arcade games from the 1990s and includes a hoodie and short-sleeve tee, according to Cynopsis Esports.
---
Other articles you might enjoy:
---
Chief Marketer spoke with Ian Trombetta, the NFL's svp of social and influence marketing, in February about how the league is catering to the next generation of sports fans with a macro/micro influencer marketing approach, a rigorous content strategy and delivering content in real-time. He also spoke about how gaming is a key vertical for the league. In addition to having a relationship with professional streamer Ninja, Trombetta discussed the league's connection to FaZe Clan.
"Their cultural influence, especially with younger folks, is absolutely massive," he says. "We're looking at ways in which we can engage not only the partners that we have, with the EAs of the world, but also the gamers themselves and some of their networks, all in the effort of finding ways to build authentic content that helps them—as well as helps our audiences—engage with the broader game."
According to Trombetta, who was Global VP of Consumer Marketing for Activision for three years prior to landing at the NFL, there are multiple parallels between gaming and the league. First and foremost, both audiences are passionate. "When you're we're talking about a Madden player, a Fortnite player, a Call of Duty player, they are so passionate about the game in the same way that our NFL fans are passionate about their teams and about the league itself. And because of that, I think there's a lot of similarities in terms of how you cultivate those communities and how you engage them and ultimately how you continue to drive transparency and showcase the game in the best possible way," he says.
Another key parallel between the audiences is their insatiable appetite for more content and more access. While working in the gaming industry, Trombetta noticed that fans and players wanted to understand more about development of the actual game, and the characters in the game, before it was even released. "Here at the NFL, similarly, fans want to know what's going on with their teams, their players. They want to know what's happening at practice. They want to know what's going on off the field. And there is almost a never-ending appetite for that content."