New Site Helps McGraw-Hill Connect With Students and Educators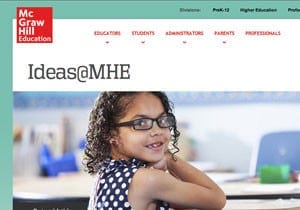 A more consistent brand experience, improved analytics and better content management are just a few of the benefits McGraw Hill Education has seen from a revamped online presence across all divisions.
In the past, instructors would build a course around a textbook. But today, many schools are 100% digital, meaning they want content accessible in real time, says Stacy Hansbury, vice president, digital channels, McGraw-Hill Education, speaking at the recent Adobe Summit in Salt Lake City.
"We could have stayed in traditional textbook business, but we knew reinvention was necessary," she said, noting the company had the benefit going into the transformation of having a highly-respected education brand. "We needed to change perception of McGraw-Hill from a textbook company to a digital learning company"
McGraw-Hill Education (MHE) had a goal of creating a consistent digital brand and ecommerce experience across the globe. It wanted to blend content and commerce functionality so its products were easy to find and purchase, and allow customers to create a single account they could use to manage their overall relationship with MHE.
There were significant challenges, however. The company had five different business units that had been operating in a siloed fashion—for example, those that dealt with the kindergarten-grade 12 market didn't communicate with the higher education folks.
The company also had over 450 separate marketing microsites internationally (each with different back end systems), and a variety of ecommerce and content systems spread over the globe. Customer data was scattered across the various systems as well—if someone was using MHE products since they were in kindergarten and were now entering college, it was tough to track them on their journey.
The sites were also not optimized for mobile, and no consistent web analytics were easily available. "This gave me a lot of anxiety as a data driven person," noted Hansbury.
The company sat down and thought about the experience it wanted to create, with an eye towards creating learning solutions that delivered a personalized customer experience. It placed the customer in the center, rather than the author, and created a set of personas that would have different customer journeys with McGraw-Hill.
These personas came from both the B2B and B2C side, and included Able Administrators, Forever Freshman, Visionary Charter Champion, Tenure Track Researcher, Involved Elementary Parent and Enriching Educator. "We addressed customer expectations and created a new experience," she said.
Working with Adobe and Elastic Path Software, the first step was a new mobile optimized site for the higher education division, launched in only in 123 days. It had an improved look and feel, with improved search functions and product presentations. The launch coincided with a new brand strategy and a new internal content governance process, as well improved site analytics.
Since the relaunch earlier this year, over 662,000 visitors have gone to the site, resulting in 2.5 million page views and a four percent conversion rate. Fifty-percent of the traffic growth has been from non-desktop devices.
Nearly 23,000 of the site visits have been to the ideas section, which presents content related to students, such as articles on surviving dorm life. "We have to remember that a lot of our users aren't our buyers—a student who goes to our site won't purchase a math program, but they do go back and talk [to their teachers]," said Hansbury. "I'm excited about the amount of energy we've had on that portion of the site."