Mountain Dew Sheds All Branding on Cans in the Name of "Game of Thrones"
Mountain Dew is joining the throngs of "Game of Thrones" fans leading up to the final season of the TV saga, which begins April 14, with a stunt to match the quest for the Iron Throne.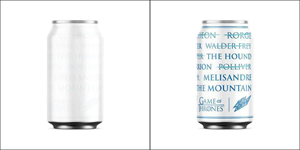 The social-media driven campaign sends fans off on a real-world scavenger hunt in New York and LA to find limited-edition cans inspired by the show. Players have to find hidden "Masters of Coin" that they then use in a Iron vending machine that will dispense the can. For the brand, the risks are real too. The cans have no branding nor the recognizable iconic yellow and green colors. They are icy white and when chilled, the names on assassin Throne's character Arya Stark's kill list will emerge. The cans, with no visible marks until cooled, play on Stark's assassin training and the requirement to relinquish her identity to become "no one."
The campaign, called "A Can Has No Name" embraces the myth of the TV series, but it was still "quite a big decision to sacrifice all our branding and our iconic green color," said Erin Chin, senior director of marketing for Mountain Dew, told USA Today. "We had to run it all the way up the chain. But collectively we thought it was absolutely the right thing to do. This is a major moment in culture to tap into."
The cans are not for sale. There were only two ways to get your hands on them before April 14. The scavenger hunt and a Twitter contest that was promoted March 28 in a tweet from Mountain Dew that read: "Tell us what you'd sacrifice using #ACanHasNoName  #ForTheThrone #MTNDEWsweepstakes for your chance to claim your limited edition @GameofThrones  Mtn Dew can. Watch the Final Season April 14 on @HBO." That sweeps ended March 29 and gave away 800 of the cans.
---
You May Also Enjoy:
---
AT&T is among other brands with an entertainment tie-in with "Game of Thrones."
"Thrones" takeovers at its flagship stores in Boston, Chicago, New York City and San Francisco will include memorabilia, costumes, digital games and videos. Three of the locations—Boston, Chicago and San Francisco, will offer "Game of Thrones" makeovers and have AR headsets available for customers to experience The Dead Must Die, "Game of Thrones" encounter.
Of the Mountain Dew campaign, HBO marketing director Alex Diamond told USA Today: "We were inspired by their act of devotion and are excited to collaborate on a limited edition product that connects to one of our show's most popular storylines."
AT&T is among a number of other brands with tie-ins to the saga, running a sweepstakes through May 7 for users of its Thanks loyalty rewards app. The winner of the "Own the Throne" sweeps gets a 7-foot tall, $18,000 replica of the Iron Throne.
HBO ran its own scavenger hunt, hiding six thrones across the globe, with one still unfound.
Add to that, Oreo just unleashed a 50-second spot from 360i that recreates the title sequence for "Game of Thrones" using 2,750 cookies to promoted the brand's special-edition saga-themed cookies. A Twitter and Facebook promo encourages uses to "pledge their allegiance to one of them" to win a "special treat."