Motivating Millennials to Share on Social Media
When it comes to Millennials, forget all that you know about traditional marketing because social media is turning it on its head. These digital natives have grown up with technology at their fingertips and are using social media platforms to share opinions and make informed purchase decisions influenced by their social networks. Essentially, word-of-mouth advertising that has been taken to the next level by technology.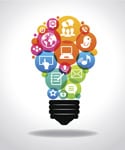 Some 52% of 21-to-32-year-old Internet users cited social sites among places where they gathered information about new products or brands, according to a study conducted by The Monogram Group. Millennials ranked friends and family ahead of social sites at 75%, but only 41% cited paid advertising as a preferred information agent. Unlike older generations who place a higher trust in traditional advertising, Millennials want real opinions from real people, not brands, and they're willing to search for those opinions both online and offline.
As more Millennials turn to social media to form opinions of brands and products, companies have the opportunity to drive engagement and organic conversation. Here are four ways brands can harness the power of social media and influencer marketing to tap into the Millennial market.
Partner with authoritative social influencers
According to a 2015 survey, 33% of Millennials primarily rely on blogs to alert them to new products and influence purchase decisions because of their perceived authenticity and credibility. Popular bloggers and vloggers are pulling in hundreds of thousands of dollars each year thanks to millions of social followers that click on every product link embedded into their sites and social profiles. Whether they're recommending a cool restaurant or the latest beauty product, bloggers exert an insane amount of influence over their dedicated following.
Consider identifying a blogger that is interested in your specific industry and offering them a free sample of your product or service. High-profile bloggers are approached daily by brands looking to partner so make your call-to-action clear and relevant. Take the time to understand a blogger's voice and vision first, be transparent and forge a strong relationship so your content stands out.
With such a wide range of popular platforms, brands partnering with authoritative social influencers can expect an increase in traffic and referral sales. A positive review shared across social media will lead to increased brand awareness and engagement with Millennials.
Sponsor local sports teams and nonprofits
Every year, sports teams struggle to raise enough money to buy uniforms, equipment and other items required to field a winning team. Sponsorships fill that void in addition to providing companies with the chance to build personal relationships that lead to greater brand awareness and advocacy among members of the surrounding community. Establishing this mutually beneficial network will aid in spreading word-of-mouth advertising throughout a neighborhood, thereby boosting familiarity with your brand and even sales as a result.
Nonprofits present another opportunity for brands to generate conversation with Millennials. Select a nonprofit with a mission that is closely aligned with yours in order to ensure both organizations are working toward the same goals. Also, publicize your sponsorship by asking the nonprofit to recognize your company on social media through blog posts and press releases that make mention of your company's support.
Host social media contests and utilize hashtags
No matter who you're trying to reach, you can be sure of one thing—everyone loves free stuff. Take advantage of that common bond by creating social media contests that encourage consumers to share your brand's social media posts or website content in exchange for some free branded "swag." As shares increase, so will the visibility of your company. If you're not too keen on giving things away for free, try offering a discount on future purchases to customers who leave testimonials on your website. From there, you can share the best reviews on social media to give potential customers an idea of what others think of you.
In addition to contests, hashtags can also be used to interact with Millennials on social media. Brand-associated hashtags on Twitter and Instagram elevate the virility of posts and increase the ease of engaging with that content. Whether the hashtag is tied to an event, a product or a campaign, Millennials will latch on in order to share their opinion or experience.
It's also important to remember that Millennials gravitate toward specific platforms. A November 2014 Cowen and Co. survey found that Internet users under 30 greatly preferred Instagram (44%) to Facebook (23%) and Twitter (33%). So whether you're asking Millennials to participate in a contest or simply include a hashtag, know which social media channel they're most comfortable using to amplify their voice. Any contest idea or hashtag you ultimately select should be focused on one goal—motivating Millennials to promote your brand to friends and family on social media.
Implement loyalty programs
Reward consumers that stick with your brand through loyalty programs. Whether it's handing out a 20% coupon after every three purchases or offering a $100 in-store credit to your most frequent shoppers, loyalty programs are the perfect way to let customers know that you appreciate their continued business. Unlike discounts or promotional contests, which are primarily one-time deals, loyalty programs encourage consumers to spend more in order to reap greater benefits. As consumers begin to stockpile rewards, you can bet their love of your brand—and willingness to share it on social media—will steadily rise.
There is perhaps a no more convenient or effective way to promote a brand than through social media. Regardless of distance, social media enables billions of consumers to share their thoughts about a specific product or service across a handful of platforms.
Reduce the amount of time and money spent marketing to consumers with the help of Millennials whose social media prowess and sharing power is unmatched. Brands need to pay close attention to the tools and platforms these digital trendsetters are adding daily to their social arsenal. The quicker you adapt to keep up with Millennials, the more engagement you'll see. Whether they're talking about your brand on social media or on the soccer field, motivating Millennials to share their recommendations with their social circle is an opportunity every brand should seize.
Amish Tolia is the co-founder and chief of strategy at Pear. He can be reached at amish@pearup.com.