The Life of a CMO is Getting Longer
Good news for the CMO: the life expectancy in your job continues to climb, according to new data from Spencer Stuart, who analyzed the tenure of CMOs working for the top 100 U.S. advertised brands.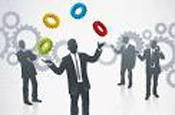 That doesn't mean the CMO can rest or his or her laurels. The pressure is still on to improve the bottom line.
Another interesting tidbit in this article is the examples of the number of CMOs who have not only moved laterally, but also moved to very different industries: For example, from Cigna to Revlon.
Another report from Forrester Research that appeared last fall was even more positive. It said that this year the average tenure of a CMO would reach 60 months—that's five years! One key reason for the improvement is that CEOs are relying more heavily on CMOs for critical advice in the fast changing world of marketing. In particular, CEOs and board members, often older, don't understand digital and digital marketing.
The report also said that tenure has been climbing since 2007, but still much shorter than that of a CEO, which is 80 months.
Related Articles:
Loews CMO on Twitter and Staying Unique: Video
Heineken's Media Director on Being Smarter, More Measurable
Would Your CMO Have a Beer with Your CTO?