Kellogg's Transforms NYC Café for Bake Off
Kellogg's is about to transform its New York City café into a modern bake shop where finalists in the Kellogg's Holiday Baking Challenge will hold a bake off Dec. 12 to determine the winner.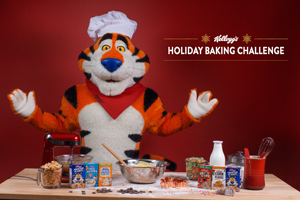 Using their creativity, bakers will feature one or more Kellogg's cereals as a key ingredient in their dish.
The contest is in partnership with cookbook author and culinary expert Padma Lakshmi, who will be in attendance to taste each dessert before announcing the winner. The winner will receive a trophy and their recipe will be featured at Kellogg's NYC Café and on KelloggsNYC.com.
"As we've seen at the Kellogg's NYC Café and on social media, people love to play with cereal and explore fun, new ways to create with it," says Aleta Chase, Kellogg's marketing director. "What better way to celebrate than by using cereal in your holiday baking!"
---
Other articles you might enjoy:
---
To enter, bakers submitted two-minute videos, recipes and photos of their baked items on the contest site. The recipes were then all judged based on perceived taste, visual appeal and the most creative recipes.
Four finalist have been announced and were paired with mentors from Kellogg's who will work with each finalist to incorporate one of the brand's selected cereals: Special K, Froot Loops, Frosted Flakes, Raisin Bran, Frosted Mini Wheats or Rice Krispies.
The finalists all receive a four-day, three-night trips to New York City to participate in the bake-off.