ING Direct Smartphone Apps Build Loyalty, Community with Mobile Banking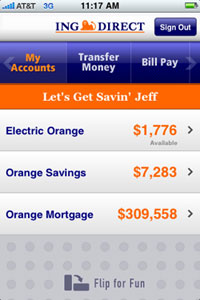 A recent study by Forrester predicts that one in five U.S. adults will do some form of banking transaction over their mobile phones by 2015, up from the 12% who currently perform some of their banking over mobile handsets. That's good news for banks, who are always looking for ways to cut down on teller interaction and thus overhead.
But the same Forrester report recommends that to get to 20% market penetration in the next four years, banks will have to offer mobile services that are more clearly differentiated from the features users can get today via banking from their PCs. If not, says Forrester analyst Emmett Higdon, they'll simply be cannibalizing one low-cost channel—online banking—to grow another.
Online-only bank ING Direct USA has taken this advice to heart and enhanced its mobile banking offering by building social functions into its smartphone apps, available since last summer for the iPhone, Android and Blackberry mobile devices. Users who download the apps, designed by Antenna Software, can simply use the "Flip for Fun" feature and turn their phones sideways, automatically bringing up a screen with links to ING Direct's Twitter and Facebook accounts, to the 60-plus videos on ING Direct's YouTube channel, or to its popular user-generated "We the Savers" blog.
The bank, a division of Dutch-based ING Group, launched U.S. operations in 2000 and offered customers the chance to open low-fee paperless checking and savings accounts, accessing their money either online or via 36,000 ATMs in North America.
"ING Direct was built on the idea of being a direct platform, so no need to take time to drive to the bank," says John Owens. "Our brand and business model are built on giving people access to their banking at their fingertips. Unto now that's primarily been online. But as people get closer and closer to their smartphones and more mobile, we wanted to get into that space as quickly as we could."
To that end, last July the bank rolled out smartphone apps for the iPhone and the Blackberry, with an Android version following soon after. The consumer response has reportedly been strong: the bank saw 300,000 app downloads shortly after releasing its iPhone and Blackberry products.
Using the apps, customers can transfer money among their Electric Orange, Orange Savings and linked external checking accounts. They can also call up account summaries, manage bill payments preferences that they have previously set up on the bank's Web site, and send person to person payments directly to users in their ING Direct P2P address book.
"Our customer is a little more tech-forward than the average bank customer, and we wanted to put something in their hands sooner rather than later," Owens says. "Mobile banking is really the next thing in banking, and we wanted to get out in front of it."
Antenna worked to help ING Direct extend their brand into mobile by designing smartphone apps with a look and feel consistent with their online presence. "Many brands these days are content with putting down shallow roots in smartphone apps," says Antenna CEO Jim Hemmer. "But we wanted to help ING Direct build something robust that would stand the test of time. We helped them design the user experience, helped them test the apps, get them stable and ready to go, and post them to the [app] stores.
"Our platform offers compression that makes the apps very thin and lightweight, so they're not data hogs but respond very quickly to the user." No one wants their bank transactions to get hung up with drawn-out latency, of course. High compression also means the app goes easy on battery life, another concern in mobile commerce.
There are other issues to consider in building an app for mobile banking. For example, if a user loses a signal while transferring funds or performing other transactions using the INC Direct app, the application retains enough persistent data that the transaction can be automatically resumed once the connection is reacquired.
To promote its smartphone apps, ING Direct ran a "Bank from Any Corner" contest that asked users to shoot pictures of themselves banking in the oddest, most unique mobile locations they could imagine from July 28, 2010 to August 27. Players could also enter online and submit either photos or videos in that channel. The grand prize winner, chosen by judges selected by the bank, received a $10,000 prize, with $5,000 for second place and $2,500 for third.
ING Direct also partnered with video creator community Poptent to find a video it could use to introduce the smartphone applications, offering a one-time usage fee of $5,000 for the best 30-second video, along with $2,000 in cash awards.
Where other brands, and particularly other banks, use social media primarily as an alternative customer service channel, ING Direct USA is more intent on engaging users in conversations about the reasons and best ways to save money, Owens says: hence the direct links to the bank's social media baked into the mobile apps.
"We built 'We the Savers' out of a brand idea that we call a 'town hall for savers'," he says. The blog offers a "Declaration of Financial Independence" that users can affix their names to to signal their agreement with tenets such as 'We will spend less than we earn" and "We will defend our credit worthiness." Customers can post to the blog to share their saving tips or success stories, while guest bloggers offer advice e on everything from homeownership and retirement to investing and raising thrifty kids. Visitors can also respond to polls and download free icons and Facebook badges promoting the site, or add a widget to their personal Google page offering a savings tip of the day.
Last year the blog ran a contest looking for five citizen-savers willing to commit to a year-long program of intense personal saving—and to blog about their experiences at least once a month. In return for sharing their stories on social media for a year, candidates who were chosen by ING Direct got a $200 monthly deposit by the brand to their accounts.
ING Direct USA also has about 39,700 likes on Facebook and about 16,000 Twitter followers.
"Saving is an important topic to a lot of folks, and not just clipping coupons, either," owners says. "It's one of the most common topics in married life, for better or worse, and a lot of people are passionate about it." Offering one-touch access to the bank's blog and social media pages is yet another factor for building engagement with the brand's assets and, ultimately, loyalty with the brand.
ING Direct has been notable for building a sense of enjoyment and community around its brand. While it does not operate brick-and-mortar banks, the brand does run 7 ING Direct Cafes around the country (in New York, Philadelphia, Chicago, Los Angeles, Honolulu, Wilington DE and St. Cloud MN) where fans can stop in, order an espresso or latte from the coffee bar, surf the Internet and take in seminars on banking and investment topics.
The company also offers a large selection of whimsical and practical promotional products for sale, most in its trademark orange and branded with the ING Direct logo, at shop.ingdirect.com/. These range from reusable lunch mats and boxer shorts to electric juicers and stadium chairs.
One of the most recent promotions involved a perennial product favorite, an orange Marin Kentfield FS bicycle. Seventy-five of the bikes were offered for $275 apiece—a 45% saving—in a partnership with Chicago Groupon and the Chicago Active Transit Alliance in anticipation of National Bike to Work Week this coming June.
The orange bikes actually have a history with the bank. "ING Direct was born in Canada in 1997, and one of the ideas to promote the business was to have a bunch of folks grab bicycles and ride around Toronto feeding parking meters to help people avoid tickets and save their money," Owens says. "The bikes became popular, and people expressed interest in buying them, so they've become a staple product in our shop. They're a great way to get exercise and save some money at the same time."