Imprint Plus Targets SOHO Market With New Name Badge Product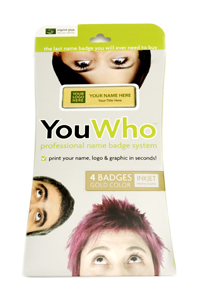 Name badge marketer Imprint Plus is expanding its B2B focus into the SOHO market with YouWho, a new DIY version of its product.
YouWho is being sold via large online and offline retailers like Staples and Amazon, as well as YouWhoBadges.com. The idea behind the new product was to give small businesses and entrepreneurs a way to help them network, when they get away from their computers and out into the real world, says Marla Kott, CEO of Imprint Plus.
"YouWho came from the demand from small business people like real estate agents or even volunteers to create a professional image," says Kott.
The kit allows users to create either two or four different badges, enabling them to have different "personalities" for different situations. Users customize the face of the badge on their own computer, and then print it out on a sheet they can then insert into the magnetic-backed nameplate.
The new product is being promoted via public relations, and the company is working via social media with bloggers, getting them to try the product and write about it, possibly offering giveaways to readers as well.
Overall, Imprint Plus sells to over 30,000 customers in 70 countries. The company sells badges to over 21 verticals, with a heavy concentration on hospitality—Marriott and Hilton are customers, and Kott estimates the company sells to 95% of the hospitality industry.
The company—based in Richmond, British Columbia—also supplies name badges to major retailers like Macy's, but 25% of Imprint Plus's business is small companies that might only need 10 to 20 badges at a time.
Overall, much of the company's marketing is done by connecting with potential customers at trade show and industry events. About 40% of new business today for the 30-year-old business come from referrals, although a variety of tactics like email and postcard mailings are also used.