How to Implement a Hyperlocal Social Media Strategy
If I told you servicing your smaller clients is different from managing your enterprise ones, I'd probably win the "understatement of the year" award. These smaller companies likely have fewer employees, fewer customers, and fewer dollars to allocate to their marketing budgets.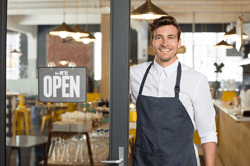 So it's important that you take advantage of strategies that will get them the most bang for their buck—and one of these is hyperlocal social media marketing.
Why Go Local?
Consumers are paying more and more attention to how brands interact with them. They're fed up with generic messaging that doesn't connect with them on a personal level, so they're relying more on local recommendations to find brands that meet their specific needs.
In fact, 88% of customers trust local reviews as much as they do in-person recommendations, and with 95% of 18- to 34-year-olds likely to follow a brand on social media, what better avenue to reach a local audience.
Hyperlocal social media marketing gives your clients the opportunity to reach highly relevant audiences in a way that fosters trust and affinity. It's different from other forms of online marketing because it positions the company as a local expert in its industry—which is appealing to consumers who are tired of batting away irrelevant, insincere marketing messages.
Of course, you can implement this highly valuable strategy for both your small and your large clients, but you will have to take a different approach for each.
Implementing Hyperlocal on a Large Scale
When it comes to implementing a hyperlocal social media strategy for your larger clients, you face the steep challenge of not only appealing to their local audiences, but also maintaining their global brand voice. Finding a balance can be difficult.
In that vein, it's important to first establish a specific set of social media guidelines to prevent off-brand interactions. These guidelines specify etiquette, brand voice, etc. And because larger clients are more likely to have the budget and a larger audience, their social media marketing efforts often require more manpower from your agency. These efforts mean there are a lot of moving parts, but when done well, big businesses can see great results.
For example, when Walmart promotes the grand openings of new stores, each store is marketed differently to appeal to individual regions based on reach into each community's values to find ways for the store to fit right in—without compromising Walmart's global voice.
Don't Discount Smaller Clients
Smaller clients likely don't have the same kind of money to invest as your larger ones, but that doesn't mean you can't implement an effective hyperlocal social media strategy. In fact, their smaller size often allows you to forge deeper, more personal connections with its target consumers, who are much more likely to engage with their social pages.
After all, local companies are typically more relevant to consumers' daily lives, so consumers are more likely to engage with social media posts from, say, a local coffee shop than a global coffee brand. It's why Facebook users engage with local business pages three to four times more than with global pages and why local pages grow twice as fast as their global counterparts.
By implementing a hyperlocal social media strategy, you'll position your smaller clients as key members of their communities. Here's how:
1. Target nano-markets Thanks to hyperlocal search and social media, it's easier than ever to find consumers who are truly passionate about companies through these niche markets. Even better, most of the tools to do this are free or inexpensive, so you'll be able to implement this strategy without breaking your client's bank.
2. Keep customers top of mind Consumers can sniff out insincere marketing efforts from a mile away—it's why so many struggle to trust large brands. Make sure you deploy hyperlocal social media messages that position clients' products in ways that showcase value and authenticity. Empathy and personalization go a long way, and your smaller clients' proximity to their customers puts them at a great advantage.
3. Address feedback promptly Communication is key when it comes to hyperlocal marketing. Work with your smaller clients to actively respond to any negative reviews or feedback. Coach them on how to address the complaint and resolve the issue. Sometimes, acknowledgment is the best way to build loyalty.
Hyperlocal social media marketing is a unique strategy that rings more authentic than traditional push marketing campaigns, and it's effective for clients both large and small. So get out there and establish community connections, and say hello to lifelong loyalty.
Sarah Clark is the president of public relations firm Mitchell, part of the Dentsu Aegis Network. 
Related articles:
Marketers Train for Social Media Crisis Drills
5 Ways to Set Goals and Measure Social Media Marketing