Hollister Launches Docu-Series on AwesomenessTV
Kohl's, Old Navy and CoverGirl are just some of the major brands partnering with AwesomenessTV to reach the lucrative GenZ audience.
Retail brand Hollister, owned by Abercrombie & Fitch, is the latest brand to tap into AwesomenessTV's massive reach—4.6 million YouTube subscribers. Hollister has launched a 24-episode docu-series titled, "This is Summer," celebrating the spirit of an endless summer.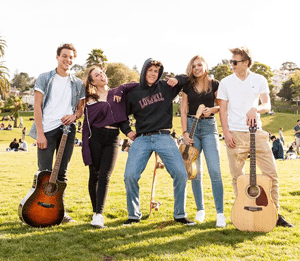 The series follows seven junior and senior high school students as they wend through the school year and spend the summer traveling and playing music. The students all appear dressed in Hollister clothing, which will be available for purchase on Hollister's social channels.
The series, filmed in San Francisco, premiered May 20 on AwesomenessTV's YouTube Channel. Each episode is about 10 minutes and are all optimized for mobile viewing. The partners will release songs and music videos inspired by the episodes, which will be available to stream on Spotify. Some of the music from the episodes will be played in Hollister stores this summer.
GenZ loves their mobile devices and video. Seven in 10 teens say they spend more than three hours per day watching mobile video and they have a combined $44 billion in U.S. purchasing power. In addition, two in three teens make purchases online and, of those, more than half are making purchases on their phones, according to a report from Think with Google.
Some brand activations and events will support the series, including a concert series co-sponsored by Hollister and AwesomenessTV at the VidCon online video conference in June.
"At Hollister, we aim to create rich brand experiences for our teen customer. Awesomeness has incredible reach with Gen Z offering Hollister a great opportunity to engage with customers in a new and authentic way," said Kristin Scott, brand president of Hollister Co. "This initiative incorporates a variety of ways for fans to connect and engage with Hollister, from product integration, to original music, to unique experiences. We are confident that our content will resonate with our customers and create additional brand relevancy across the teen market."
AwesomenessTV is a partnership between DreamWorks Animation and Verizon Hearst Media Partners. Read the article …
Watch the trailer:
Related articles:
Taco Bell Looks to Social Fans for Video Content Inspiration