Getting in the Game: Pizza Hut "Squares Pick'em"
Football pools are a long-standing tradition around the Super Bowl. At bars, cafés and offices people add their names to squares laid out in a grid on poster boards hoping to win big and small cash prize pools based on the score after each quarter of the game.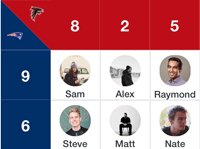 Pizza Hut is running its own "Squares Pick'em," digital game on Yahoo Sports that lets football fans play along with the Big Game Feb. 5.
"We know how the gamification of everything we do has become so pervasive," says David Daniels, vice president of advertising and media at Pizza Hut. "We thought this was a fun way to engage leading up to Super Bowl Sunday."
The game is played similar to Yahoo Fantasy Football.
"Commissioners," or the person hosting the game, establishes settings for their specific league and then invites friends and family to pick Pizza Hut-themed boxes on a 10 x 10 grid. Each square equals a possible score at the end of every quarter of the football game and the host decides the prizes.
Players fill out their grids through the Yahoo Fantasy app and desktop experience.
Pizza Hut is pumping out display, search and email ads to drive sign ups for the Squares Pick'em game. Yahoo also promotes the game through the Shutdown Corner, RotoArcade and additional NFL editorial. Pizza Hut also had plenty of branding on the game site, including banners to click through to preorder or "order now."
"Digital is part of our strategy of trying to drive online orders and digital engagement," Daniels says. "It fits within our overall digital strategy. This idea of being able to play Squares Pick'em online leading up to and during the game is new and unique and we like the fact that we're trying new things. From a business standpoint to be able to click through and order just ladders up what we're tying to do to drive sales as well."
The combination of Yahoo Sports and Pizza Hut offers a power-packed marketing touchdown. Super Bowl Sunday is the busiest day of the year for Pizza Hut serving over 2 million pizzas. And, last year, the Super Bowl was one of the most visited days of the year on Yahoo Sports and fans spend nearly 30 billion minutes a year playing fantasy sports on Yahoo, the company says.
"It's a huge day for us so we want to be part of the conversation leading into the day," Daniels says."We love the engagement factor and keeping Pizza Hut part of the equation leading up to the game. It's our Black Friday."
Related articles:
A Super Bowl Spot is No Longer an Ad, It's Content
Pre-Super Bowl Marketing is an All-out Blitz