Full Agenda Announced for B2B LeadsCon Summit 2014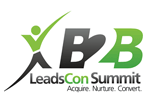 The B2B Leadscon Summit Full Agenda is now available here. This event gives you the opportunity to hear from the B2B Lead Generation experts and learn the latest tactics of B2B marketing on:
B2B Customer Acquisition
Lead Nurturing
From Good to Great with Lead Conversion
Why Customer Retention is Key
How to Drive Revenue with Email
Converting on Social
Maximizing B2B Trade Show Success
Website Optimization for Lead Generation
This is event is a must-attend to any senior B2B marketer wanting to stay ahead of the curve! See full agenda here.
Register by May 31st and take advantage of the Early Bird Price $545!