Free Tattoo's Anyone? Spike's "Ink Master" Stages NY Event
"Ink Master," Spike TV's highest rated series in 2013, parked a mobile unit in New York City for three days last month. Large crowds gathered to try for a chance for a free tattoo or to get up close to former contestants and fan favorites of the original tattoo-reality competition.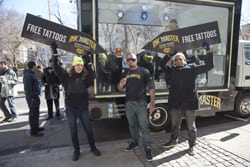 The "Ink Master" mobile unit was one piece of an integrated program surrounded by social, digital, TV, print and radio with help from Spike's media planning agency Fallon. Some 2.1 million viewers watched the show last season, the most ever, and the brand took no chances in upping those numbers for season four, which airs Tuesday nights.
An important filter for Spike in the marketing effort behind "Ink Master" was to look to do something new that could go viral considering that tattoo fans and the "Ink Master" audience are very active on social, over indexing more than any other show on the Spike network. The idea for the mobile unit was to create something exciting and a little unexpected—even risky—that was in line with overall branding, hence the tagline "It's Going to Be A Street Fight."
Frank Tanki, executive vice president, brand marketing and creative, Spike TV, shared his insights into why a mobile unit, developed by Pop2Life, was brought into the marketing plan for the first time.
CM: How did this NY event fit into your overall marketing strategy for the show?
TANKI: The theme of Season 4 of "Ink Master" is centered on the grit and competitive feel of New York as well as the competition between the tattoo artists. So, the truck served as a complimentary fit to the overall tone and feel of messaging—bringing art to the streets and its fans.
CM: How did you market the event?
TANKI: We marketed it heavily through Spike TV's "Ink Master" social media pages (Facebook and Twitter) and supplemented it with a radio buy that featured both live and pre-recorded reads that included an interview with one of the series' judges Chris Nunez.  Two popular local NY radio stations (Z100 and KTU) touted the location of the truck each day. DJ Mo Bounce from Z-100 also did a remote segment from the truck on the first day of the campaign and received a free tattoo from one of the artists.
CM: How did 10 fans get free tattoos?
TANKI: Fans were chosen on a first come, first serve basis with a sign-up sheet. The first 10 eligible participants who signed up physically at the truck were then scheduled for specific times within the day to receive their free tattoo. The participants chose a tattoo from the customized offering sheets created by the two tattoo artists, who both were former "Ink Master" contestants and fan favorites Al Fliction from Season 1 and Lalo Yunda from Season 2—who both happen to be NYC-based tattoo artists.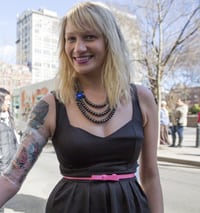 CM: Did you capture consumer data to stay in touch with the attendees?
TANKI: Yes, all participants who received tattoos filled out contact sheets. We also gathered contact info for people who expressed interest in being a Human Canvas (a person who actually gets tattooed on the show) on future seasons of "Ink Master."
CM: How did you fabricate the truck?
TANKI: We had the Spike creative team design and create specific art and branding for the truck.  Creative direction and approval from our internal Spike team was also given on how to brand the interior of the truck along with all signage and messaging.
CM: What other marketing activities are planned around this season?
TANKI: There were two additional out-of-home campaigns. We did a direct mailer for Valentine's Day, which included a high-gloss, full-color poster of a flash sheet custom designed by one of the show's judges, Oliver Peck. The mailer included incentives for the tattoo parlors to post the offering sheet within their social media pages with a chance to win tickets to the show's live season finale. We also partnered with the Barclay's center to give Free Brooklyn Nets tattoos for five games between Feb. 12 and April 1 on behalf of "Ink Master." The partnership also included in-arena signage with social call-outs from the Nets to promote the activation.
RELATED ARTICLES:
Jameson Whiskey Seeks Luck of the Irish on St. Patty's Day
Sports and Loyalty Marketing Help Papa John's Bring in the Dough
Marketing Wizardry Pulled Hostess Back from the Brink