FedExCup PGA Tour Sponsorship Helps Engage B2B Customers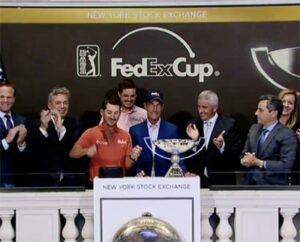 As the FedExCup Playoffs kick off in Paramus, NJ with The Northern Trust Tournament this week, FedEx is leveraging the B2B marketing engagement power of its PGA Tour sponsorship.
FedEx has been a PGA Tour sponsor since 1986, when it began sponsoring the St. Jude Classic in its hometown of Memphis, TN, notes Patrick Fitzgerald, FedEx's senior vice president of integrated marketing and communications.
"Starting with that event, we realized the business and community value of sponsorships like this," says Fitzgerald. "Because of the global nature of the tour, we can create a lot of good connections."
The FedExCup Playoffs determine the season-long champion on the PGA Tour.  The four Playoffs events offer $32 million cumulatively in prize money, as well as a $35 million bonus pool, with $10 million going directly to the FedExCup winner. The final event is the Tour Championship in Atlanta on September 20-23.
FedEx looks to engage numerous audiences through the sponsorship. In addition to the general brand building aspect of PGA Tour events to reach consumers and the general public, the tournaments provide an opportunity to host and network with B2B customers ranging from owners of local businesses to c-suite executives from Fortune 500 firms. Participants in the My FedEx Rewards platform for small and medium sized customers can earn unique PGA Tour experiences
"We have the opportunity to host customers at PGA Tour events around the world—there's really nothing like a playoff event for dedicated time with a customer," says Fitzgerald. "Anything we do with the sponsorship amplifies our message. We're able to reach everyone."
The company also engages FedEx employees at events, says Fitzgerald, noting it creates a level of excitement in local communities and markets. "It's very important that our team members are active and engaged."
---
Related Articles:
---
To celebrate the start of the playoffs, the PGA Tour and FedEx were at the NYSE for the Closing Bell on Wednesday, with professional golfer Andrew Landry doing the honors. Events such as this are promoted heavily on FedEx's social media channels, to leverage the impact of the sponsorship. The golfers themselves also offer many promotional opportunities. Last week, reigning FedEx cup champion Justin Thomas appeared on The Tonight Show with Jimmy Fallon to showcase both the upcoming tournaments and FedEx's $1 million contribution to St. Jude's Children's Research Hospital.
"As the largest sponsor of the PGA Tour, we have a close day-to-day working relationship with them, so we use social to promote and really generate awareness for all of these interactions," Fitzgerald says.
The tour provides content for FedEx to leverage across platforms to tell a story. This year, he notes, the narrative is particularly compelling, considering that Thomas is defending his title against golf legend Tiger Woods, who hasn't held the crown since 2009.
The ROI of the sponsorship investment is considered on several fronts. Brand building is an obvious consideration. B2B revenue and package volume from customers who participated in PGA Tour activations are also closely measured.
For the second year, the brand is also running FedEx Junior Business Challenge, which gives Junior Achievement (JA) students the chance to pitch original business concepts to a panel of judges at select PGA Tour stops.
JA students—ranging in age from 15-18—pitch their team's business to a panel of judges for a chance to qualify for the finals and earn a $75,000 donation for their local JA chapter. Ideas headed the finals in Atlanta this year Team Wolfpack's Tropical Wave, a concept for a fun fruit food truck, and Team MyCryptoHippo's plan to education teens about cryptocurrency.
Judges for the challenge have included 2003 U.S. open tennis winner Andy Roddick, seven-time Olympic medal gymnast Shannon Miller, 2016 Daytona 500 winner Denny Hamiln, 2018 Masters champion Patrick Reed and Super Bowl XL MVP Hines Ward.