Experience Marketing is the New Integrated Marketing Model
The traditional integrated marketing channel model is no longer relevant and is being replaced by a new Experience-centric model.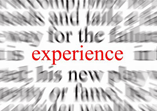 This is not an evolution; it's a revolution. And while many agencies and marketers still struggle to integrate their core disciplines, in the new experiential world order, traditional integrated planning that passively connects consumer touch points no longer works. A new experience-based approach has emerged that enables marketers to deploy all marketing communications seamlessly to deliver relevant consumer brand experiences that build episodically and cumulatively from intro through purchase to a lifetime of engagement.
Three forces in the market have come together to create a perfect storm that's rendered traditional approaches to integration passé. Here's what you need to know.
1. The rise of the experiential consumer A new breed of consumer has emerged and it's a game changer for marketers everywhere. This Experiential Consumer requires a bold new marketing approach that weaves every interaction into an endless series of brand experiences that shape and deepen the relationship with them.
Every interaction with a brand—live and virtual—has become a personal experience. Thanks to digital, social and mobile, these consumers are master aggregators and curators, digesting a constant stream of information. They embrace each new social medium, extending their own very personal communication channels and deepening their individual and fragmented network of influencers.
Experiential Consumers are also skilled researchers who can control the marketing conversation, easily tuning brand messages in (and out). Socially active consumers have come to expect a personal experience that delivers on the brand promise in all interactions—before, during and after purchase. Like it or not, these consumers have become dynamic partners in your marketing efforts.
2. Richer data driving richer experiences It's no secret that marketers have more intelligence about their consumers than ever before. Personal devices and a widespread culture of "sharing" amplified by social media platforms have created an overwhelming pool of rich and accurate consumer data. Experiential marketers, having logged countless face-to-face hours with consumers out in the real world, have been in a position to foresee the real impact and potential opportunities presented by this new reality.
Deeper, richer real-time information strengthens existing data for more relevant interactions. Social-media analytics home in on personal interests so well and on such scale that marketers have unprecedented insight into Experiential Consumers' hot buttons. Layer in the deep data from live events, and there's a huge opportunity to design highly customized brand experiences. A constant, cumulative data flow lets marketers keep honing the next experience—to the point where the metric predicts what the consumer will want next.
This flow of data also presents opportunities to create a richer system of metrics for evaluating brand experiences and measuring the value of the nuances of those experiences over the life of the consumer's relationship with the brand.
But in order for marketers to fully leverage data, they need to be in a position to process and react to it. Marketers need a system of measurement built to gauge in real time the quality of experiences. They also need an episodic-based approach to planning that allows for constant testing and learning.
3. A new, dynamic consumer relationship In the mind of the Experiential Consumer, access to a wealth of data comes with a wealth of responsibility. Consumers know that marketers have more personal information than ever before, and based on that, they expect brands to recognize and cater to them. Efforts will backfire if marketers underestimate this new social contract and deliver a commodity experience despite all that consumers have shared.
Brands' relationship with the Experiential Consumer thrives on an exchange of value: personal data and preferences, in exchange for a meaningful and authentic experience. With every interaction, the brand and consumer learn from each other, and that makes future interactions and the relationship better and better. Consumers have come to expect brands to deliver a series of richer, more personalized experiences relevant to them.
New Experiential Marketing Model
In the end, marketers need to rewire their approach to focus on experiential design—putting the Experiential Consumer at the core, and then leveraging data to understand consumer behavior and preferences to engineer experiences that deliver value and create relevant engagement the consumer will welcome and sustain. Traditional integrated marketing approaches, which can be haphazard when applied across disciplines, come up short.
Ultimately, as live and digital continue to converge, data-driven experiential design enables marketers to integrate all marketing communications seamlessly to deliver relevant experiences that sustain a dialogue with Experiential Consumers indefinitely. Leaders in the field have moved from event design to experiential design, and integrated marketing is being replaced with the new experiential marketing model.
 Sarah Eck-Thompson and Brook Jay are co-founders of experiential marketing agency All Terrain. They can be reached at [email protected] and [email protected].