Dr Pepper's Social Coupon Referral Campaign Takes Off
Coupons, of course, make great incentives to get consumers to either try a product or repurchase of product. But with social media as a relatively new distribution channel, coupons can sail through cyberspace at lighting speed in a targeted fashion.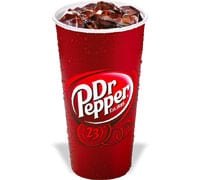 Take a recent social marketing referral campaign, developed by SocialTwist for IN Marketing on behalf of Diet Dr Pepper that helped drive sales and brand awareness.
Consumers were offered the opportunity to save $1 through a coupon if they shared the offer with friends via email or social media, or receive a .50-off coupon without sharing. People who participated could also get a $5 Walmart e-gift card if they submitted proof of purchase of three 12-packs of Diet Dr Pepper.
SocialTwist says the goal was not just to promote sales through coupon distribution but also awareness and buzz around the product, which have a lasting impact on consumers' future purchasing decisions.
The results proved that social can make a great runway for a coupon program to take off. Over 117,000 referrals were made during the program indicating that many consumers are willing to refer coupons to their friends in order to save some money on their own purchase. More than 6,000 $1 coupons were taken in three weeks, representing a high take rate of 13%.
By using a unique tracking code, the channels where the coupons were distributed made a difference too, which helps out when launching future campaigns. (Learn how to use social data to benefit other departments in a free webinar: "How to Uncover New Opportunities Using Social Data" Nov. 18 at 2 pm.)
Facebook had the most reach (73%) with more than 85,000 referrals. The channel with the highest click-through rate was email. Email referrals reached 10,000+ people with an open rate of 27.8% and a click-through rate of 13.6%.
Twitter referrals also proved quite successful, reaching more than 15,500 people with a click-through rate of 13.5%. Other social media accounted for over 5,000 referrals but had lower click-through rates. In this case, 14% of the coupons (over 900 coupons) came from one site (Hip2save.com).
Related Articles:
Popular Bed Bath & Beyond Coupons Hurt Bottom Line
How to Uncover New Opportunities Using Social Data: Free Webinar Nov. 18 2 PM.