Coca-Cola Launches First Marketing Campaign for AHA Sparkling Water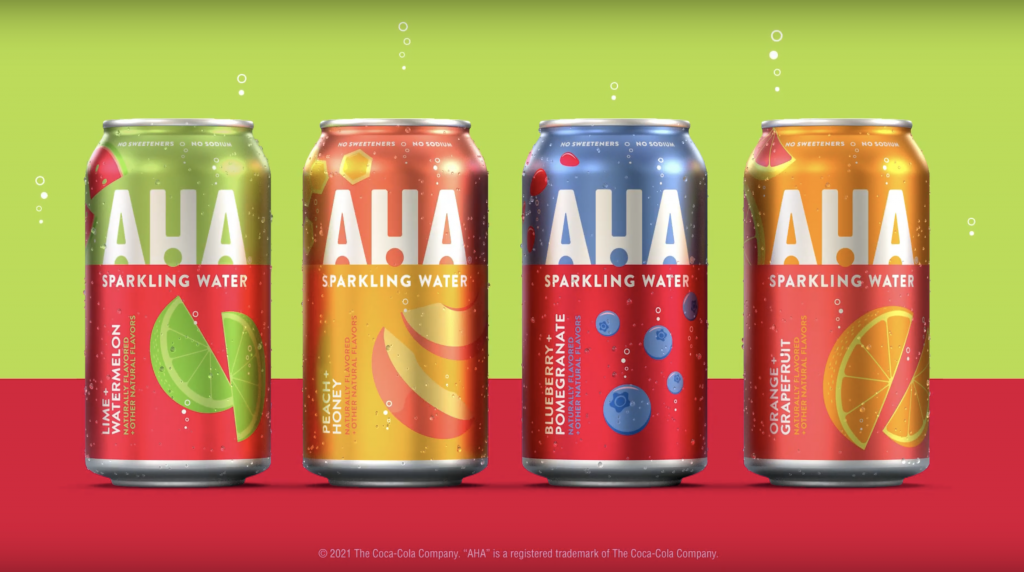 In just its first year, AHA Sparkling Water garnered an 8.3 percent share of the unsweetened, flavored sparkling water market. That's all the more impressive when you realize that the brand, the Coca-Cola Co.'s first launch in more than a decade, debuted in March 2020, just as COVID-19 was taking hold.
"We did some promotion last year to launch the brand," says Ulises Ramírez, Coca-Cola's Group Director, Water Portfolio, "but with COVID we thought it would be a good idea to wait."
That wait is over now. In early May, AHA and agency Preacher rolled out the brand's first 360-degree marketing campaign, "Can I Get an AHA?" Comedians/actors Lauren Lapkus of "Orange Is the New Black" and Colton Dunn of "Superstore" star in the 15- and 30-second ads and digital assets, in which after enjoying the beverage they find themselves unable to stop incorporating the syllables "A-ha" into their speech. As well as living on YouTube and other social channels, the spots will appear on TV and streaming services, with support from OOH and radio advertising.
The repetition of "Aha" in the spots doesn't just serve to entertain. "We need people to know the name," Ramírez says. Similarly, the "Can I Get an AHA?" tagline is an explicit invitation to try the brand, which he says differentiates itself from La Croix, Bubly and others in part by offering an element of surprise. "It's a brand based on discovery," Ramírez says. Each of AHA's eight varieties is a somewhat unexpected flavor pairing—mango and black tea, for instance, and peach and honey. "We love flavor combinations, so we brought in Lauren and Colton, who we think are a great combination," Ramírez says.
Just as important: The pair is fun. "The [sparkling water] category has been growing. We thought we could bring bolder flavors, great combinations, caffeine [two of the eight flavors are caffeinated], and just a bit more fun," Ramírez explains.
One might think that with this lighthearted approach AHA is targeting a younger audience. But according to Ramírez, the brand views its potential market in terms of psychographics rather than demographics. "We think of people who are open to new experiences, who like to try new things, as our target," he says. In addition, "we focus more on when you should have an AHA—say, in the afternoon when you feel you should have a pick-me-up but don't want a coffee—than on a specific consumer."
While the beginning of a pandemic wasn't an optimal time to launch a brand, there were some upsides. Citing Nielsen stats, Coca-Cola reports that sales of flavored sparkling water overall rose 24 percent in 2020, with new products and flavors accounting for more than half of that growth. Ramírez believes that the months of COVID-related restrictions contributed to that. "The fact that people had more time for themselves and were looking for little moments to freshen their everyday life gave people more opportunity to try something new. I think we were all trying to look for these little moments of happiness."