Canon's Coral Reef Project Taps Gen Z Creators to Spread a Message of Sustainability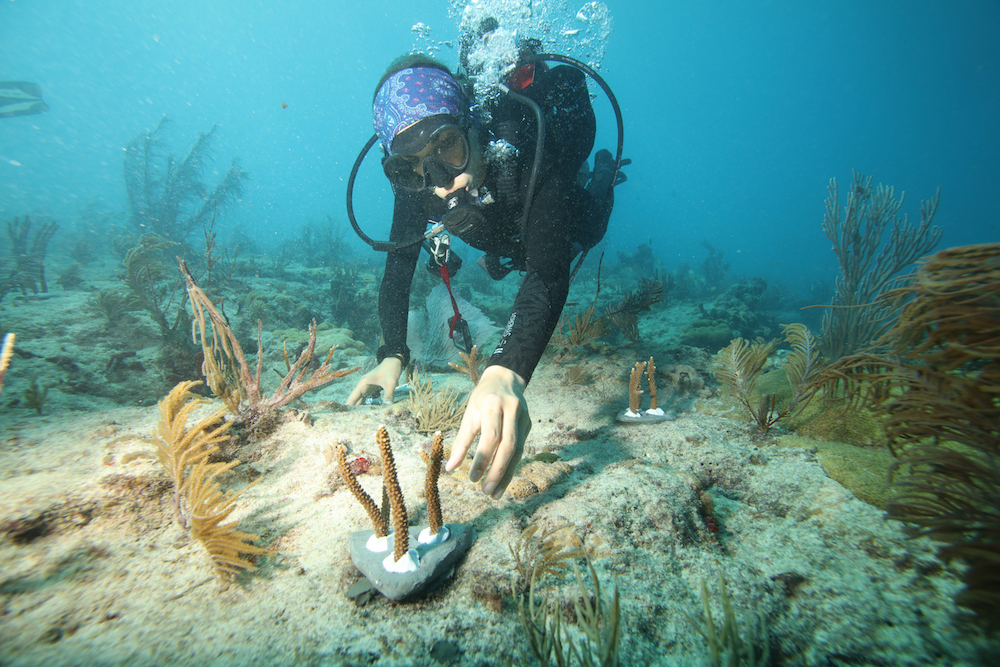 It's no secret that Gen Z is passionate about the fight against climate change—perhaps more than any other generation. According to a 2021 Deloitte survey, protecting the environment is the number one concern for the demographic, ahead of unemployment and healthcare. Moreover, the majority of Gen Z consumers would be willing to spend more on products that are sustainable, a white paper from First Insight reports. They are also prepared to take action to drive change—and pay attention to those companies that are authentically doing so.
An example of a brand walking the walk is Canon, a company that strives to follow the Buddhist philosophy of "kyosei," a concept that advocates harmony between people and the environment. When the team at Canon learned that the University of Miami was spearheading a coral reef restoration project in Key Biscayne, FL, it offered to lend its cutting-edge imaging equipment to students and researchers to document the project on TikTok while also supporting an ongoing fellowship program.
The restoration project, first initiated in 2019, entailed the creation of the "Canon Reef" through collecting small fragments of existing coral from an underwater nursery, preparing them to create additional colonies and then out-planting them back onto the reef. The brand also enlisted cinematic videographer Peter Zuccarini to capture coral spawning and continues to help spread coral reef conservation awareness through allowing students from the University of Miami to document the restoration efforts through social media, including the student-run Rescue a Reef TikTok channel.
We spoke with Canon USA's Regional Account Manager Lisa Alford, the brand's lead marketer—and also photographer—on the project, about how Canon tapped the creator community to spread awareness of these conservation efforts and inspire younger generations to take direct action in the fight against climate change.
Chief Marketer: How did this project first come about?
Lisa Alford: Canon has worked with the University of Miami closely for a number of years. We have a dynamic and collaborative partnership. We provide cameras, printers and enterprise solutions throughout the university. When we learned that the Rosenstiel School of Marine and Atmospheric Science was going to be doing this program, we were excited to expand that partnership. The initiative involved university researchers, faculty and students as well as Canon team members.
We used Canon imaging equipment to document the progress for the researchers and also to educate the public on the restoration project. It really tied back to Canon's global philosophy of kyosei, one of our integral connections to our Japanese heritage. It inspires our daily work and purpose. Kyosei is an idea of harmony and sustainability. Canon defines it as the belief that all people, regardless of race, religion, or culture, are harmoniously living and working together towards the common good. This goes back to everything that we do throughout our company and all of our sustainability programs.
In addition to helping with the restoration project, we also created the Canon Coral Reef Fellowship Program to provide select students the opportunity to work closely with Canon's camera professionals to give them hands-on learning of core camera capabilities and photography skills so that they could use our equipment properly and get the most out of the research and education. By using our equipment, they were able to shoot, package up the content and bring it to life through education campaigns to raise awareness. It helped to foster these budding photography and videography talents while also empowering them to help fight climate change.
CM: What were the strategic marketing goals of this program? How do you gauge its success?
LA: The strategic marketing goals were to drive awareness through promoting the program through the creator community. Canon has a unique understanding of the creator community because there are many bloggers and social media influencers that use our equipment to create their work. So, because we are already deeply embedded in platforms like TikTok and YouTube, which is where Gen Z turns to for a lot of information and entertainment, there were a lot of ways that we were able to use our marketing through those platforms to promote these efforts.
We were also lucky to work with very talented students through the Canon Coral Reef Fellowship Program. They were able to document the process using equipment like the PowerShot G7 X Mark II. And then we were able to take all of that content that they documented on the process of rebuilding the coral reef and leverage it on social media. The fellows started the Rescue a Reef TikTok account and they invited other people to join in on the action.
CM: Why did Canon use TikTok for this program?
LA: We used TikTok because it was the perfect medium to showcase the journey and experience to other young people who use the platform and empower others to get in on the fight against climate change. So while Canon doesn't actually own the Rescue a Reef channel, we are really happy to see that organic engagement with our equipment being used to capture the work. It helps to open people's eyes to what's happening and give them the information that they need to get involved in their own way to help fight climate change where they live.
CM: In what other ways is Canon practicing sustainability?
LA: Canon has a lot of different sustainable programs that we currently work on and that we're going to continue to work on into the future. We work with Yellowstone National Park and the Audubon Society. It's really about continuing to empower the creator community with our equipment while stressing our philosophy of kyosei and harmony at all levels—most of all with our environment. Canon strives to be a leader in sustainability, even down to our shipping methods and recycling ink and toner cartridges from our multi-function products. In our headquarters, we have our recycling programs, a food waste program and we are a LEED Gold-certified building.
A recent survey reported that 73 percent of Gen Z expressed concern and worry for the impact of climate change on the planet. We want them to understand that Canon takes it seriously as well, especially as we look forward to the future and the next generation of image makers. We want Gen Z and other young people to see the content that we have created with the University of Miami and be inspired to follow their own creativity and also learn more about how they can fight climate change. We want it to help them to be emboldened to do their part, to fight it just like their counterparts at the University of Miami are doing.