Brand Champions Boost General Mills
Classic General Mills brands like Pillsbury are finding opportunities for growth by defining customers' new purpose and passion for their products.
Customers—particularly millennials—are rethinking everything about the brands they support and the values they live by, noted Mark W. Addicks, senior vice president and CMO, General Mills Inc., speaking at last week's ANA Masters conference in Orlando.
Brands that are growing today are doing what great marketers always should be doing—finding markets and defining them in human terms, he said, noting that a brand champion is behind every great brand.
"These are the super consumers for your category," said Addicks. "Brands that aren't growing are really fuzzy about who their brand champions are."
"The good news is that we have some brands that are really growing in the marketplace," he said, citing Old El Paso, Cheerios, Foods Should Taste Good and Pillsbury in particular.
He cited several examples. The Box Tops for Education campaign has become a driving force for General Mills, because it accentuates how parents can turn those redeemable box tops into cash for their schools, which can then be turned into the things that really make their child's school experience come to life, like arts programs or playground equipment. Forty million households participated in the program last year, and $82 million was raised for U.S. schools.
Other brands in the General Mills portfolio that are growing define the purpose and mission of their audience clearly. The 30-year-old Cinnamon Toast Crunch brand revitalized itself by looking at their audience as kids who are cereal eating machines. The healthy snack bar Larabar became the company's fastest growing brand by encouraging consumers to look at the number of commas in a snack's ingredient list—for a more natural treat, the less commas the better. On a more indulgent track, the "House of Haagen-Dazs" campaign played up the luxury aspect of the ice cream.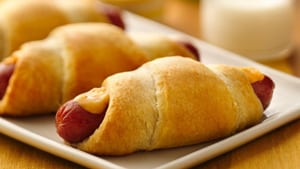 Finding your brand's purpose can force you to ask the big questions, and see what your audience really wants from your product, said Addicks. For years, Pillsbury was telling the same types of stories, such as cinnamon rolls being great for a Saturday morning breakfast. While that is still true, the brand realized tons of people were also using Pillsbury products as their canvas for more creative experiments.
This led Pillsbury to embrace the maker phenomenon, and encourage people to do different things for their family. A simple Crescent Dogs commercial became a $170 million recipe for the brand.
The Fiber One brand used to be marketed as basically "cereal with twigs," Addicks joked. But then someone pointed out a crazy popular Weight Watchers Fiber One Brownie recipe using Betty Crocker brownie mix, and they realized that brand champions were making the product their own.
"It changed the purpose of Fiber One, making it a way to make dieting suck less and find a convenient way to manage your weight," he said. "Purpose can change the way you do everything in your marketing mix."