Barbie's Journey from Free Fall to Sales Growth: CMO Juliana Chugg
Juliana Chugg was not a fan of Barbie. She, like other moms worried about body perception and stereotypes. So when she was offered a job at Mattel to take on the turnaround of the brand, she researched its origins and her attitudes started to change.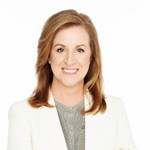 "I was not a Barbie girl," Chugg said.
Chugg accepted the role of executive vice president and chief brand officer for Barbie about one year ago to lead the turnaround. It was a daunting task. Barbie had lost relevance. The once beloved doll was out of touch and no longer a role model. Sales started to decline; cultural attitudes had changed and the brand did not. By 2014, the brand was in free fall reporting 10 quarters of systemic sales decline and parent Mattel's stock was down 40%. Girls and moms were switching to alternative dolls and girls were telling Mattel that Barbie was not particularly cool.
"Instead of changing to become relevant in a society whose values where changing, Barbie was still living in her dream house at a time of cultural change, especially for women," Chugg said today at the ANA Masters of Marketing Conference. "She became a stereotypical symbol."
Chugg looked back to the creator's intentions. Barbie, of course, was a way for young girls to play out their dreams, to provide a window into what was possible from being a princess to a career as an astronaut. Over 57 years, 1 billion Barbie's were sold.
"The silver living was that the Barbie team was acutely aware of the problem," she said. "Collectively we knew if we could address consumers' concerns we could turn the brand around."
The objective was to change the way the world talked about Barbie. To lead that transformation the team went back to Barbie's past and the values that originally made the brand great back in 1945, just as Chugg did before accepting the job.
Barbie was created by working mom, Ruth Handler, intended to inspire imagination and creativity for little girls, providing them with all of the possibilities they could be when they grew up.
"This empowering and purposeful idea was central to a girl's development and gave us the insight for the turnaround," Chugg said.
The team followed three transformational beliefs:
1. The power of purpose We listened to the values of parents who were looking for brands that have depth and meaning. We refocused on that noble purpose to build the brand and inspire girls so we could be relevant again.
2. To innovate Barbie and be willing to take risks The team had to find new and innovative ways to represent the brand. Chugg challenged everyone in the organization to take risks on everything from product to marketing.
"Nothing could be sacred," she said. "We knew the brand would have to take big risks."
3. Cultural relevance was the only path forward. Barbie had to reemerge with cultural relevance—and fast. The team needed moms to reappraise the doll.
The path to recovery began with three bold moves that would break down barriers to brand success and create an immediate impact.
Move No. 1: Add more variety to the brand An astounding 23 new types of Barbie's were developed with eight different skin tones and a variety of hair colors and other features to reflect the multicultural society in which we live.
Move No. 2: Limited edition look-alike dolls captured real-life, amazing and accomplished girls like Olympian Gabby Douglas, ballerina Misty Copeland and actress, singer and dancer Zendaya. The new dolls drew "enormous amounts of social media."
Move No. 3: Tap into advanced technologies "While we were committed to the value of imaginative play, advanced technologies led to Hello Barbie, the first conversational Barbie with artificial intelligence," she said.
Hello Barbie also drew a cascade of press coverage, including a New York Times cover story.
The marketing strategy was to reengage with moms around Barbie's noble purpose. The brand had really only maintained a strong connection with girls, not moms, the ultimate decision makers and purchasers.
"We desperately needed to reconnect with moms and reinforce that noble purpose," Chugg said.
The team developed a campaign around the tirelessly empowering messaging that girls can be anything they want when they grow up and not be restrained but to realize limitless potential.
The launch film debuted on social media and quickly went viral garnering 50 million views globally, the honor of the 2015 YouTube Add of the Year, a 2016 Cannes Lion and a 2016 Clio Award. Watch the video:

The subsequent ad and social campaigns had an immediate impact on brand growth. Even so, the company continues to listen to consumers and make change.
Addressing the controversy and concerns from moms that Barbie's body is seen as unrealistic, earlier this year Mattel staged its boldest move ever to introduce three new body types for the doll: curvy, tall and petite, along with the classic Barbie. The strategy was to make Barbie and her looks reflect the real and diverse world.
"The brand challenges could not be addressed through marketing alone. We had to take the bold step of changing the features of a product that had been an icon," she said.
All these changes were not an easy internal decision.
"We were concerned that if we added diversity and body types, then who was Barbie?" she said. "It was hard. If she's all these different shapes and ethnicities then where is Barbie? We had to be courageous. It took a lot of internal risk to change the shape of Barbie, but with great risk comes great rewards."
One of the rewards came from Time magazine, which ran a cover story with an image of Barbie titled: "Now Can We Stop Talking About My Body?"
Mattel can also stop talking about Barbie's sales decline.
Starting this year, the brand's 10 quarters of decline were stopped. This year sales are up 23% and 16% in Q2 and Q3 respectively with the busiest holiday time frame still to come.
"Barbie is indeed back," Chugg said. "Guided by listening to the voice of the consumer, being willing to take risks and staying true to your noble purpose."
Related articles: