ABM: Four Trends to Watch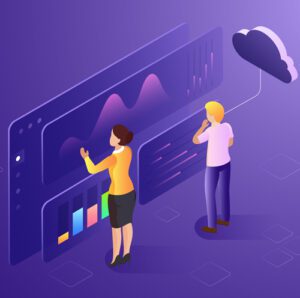 Just how effective is account based marketing (ABM)?
According to the 2018 ABM Benchmark Study by ITSMA and the ABM Leadership Alliance, 99 percent of marketers that are doing ABM achieve a greater ROI from their account based marketing programs than all other types of marketing.
FlipMyFunnel reports that companies using ABM generate 208 percent more revenue from their marketing efforts compared to those that don't. SiriusDecisions writes that 91 percent of marketers that use ABM are seeing a larger average deal size, with the increase in deal size over 50% for a quarter of respondents.
Account based marketing has proven to be so reliable a marketing vehicle that the majority of B2B marketers are planning on increasing their investments over prior levels. According to DemandGen Report's 2018 State of Account-Based Marketing, 60 percent of respondents were committed to investing more or "significantly more" in following the survey.
Here's four ABM trends to watch in the second half of 2019.
Deeper Personalization
Expect far more granular personalization in ABM moving forward. Although targeting and customization is at the heart of ABM programs, many companies are still targeting at the industry or account level. The majority of ABM marketers (65 percent) believe that their personalization efforts are merely average or below average, according to Evergage, revealing a major area of ABM that is underutilized.
Personalization does not necessarily need to be at the individual stakeholder level, either. Beyond account-based customization, you can conduct "One-to-Few" ABM, where you keep the bulk of the approach (say, 80 percent) the same, while customizing 20 percent per target.
---
Hear more from Tom Shapiro at LeadsCon's Connect to Convert 2019 in Boston, September 25-27.
---
ABM marketers will be deepening their sophistication in both one-to-few and one-to-one ABM strategies in the coming year. In fact, an eye-opening 97 percent of the 300 B2B marketers surveyed in the Evergage report plan to maintain or increase their personalization budgets in 2019. Expect marketers to be personalizing just about everything in the future, from their websites to content, email, direct mail, ads, etc.
ABM Goes Beyond Sales and Marketing
Traditionally, ABM has been the domain of sales and marketing, and to that end, alignment between the two departments is one of the most critical factors in driving ABM success. That makes sense, given that these are the main entities responsible for securing the right prospects, engaging effectively, nurturing and generating revenue.
However, limiting ABM to sales and marketing is a narrow view of the opportunities that ABM potentially delivers. By being more inclusive and collaborative across the company, you'll be in a position to generate even greater returns from your ABM efforts. Instead of seeing ABM as just a targeting strategy, a company should see it as a way of life.
How can the CEO, CTO and other c-suite executives help you make inroads at VIP accounts?
How can those in product development weigh in and add value? What type of custom demos could be made available?
What prior experience has professional services and customer support had at any accounts where you're looking to grow horizontally, or at past accounts that you are targeting anew?
Outside of your own company, are there any critical partners that should be involved in a more collaborative approach for any of your target accounts?
Look more holistically within, and you're bound to identify new opportunities for customization for your target ABM accounts and deepen your differentiation.
More Automation at Scale
There's been a great deal of hype with ABM over the past few years, but the best is yet to come. Expect a great deal of innovation in scaling automation moving forward. Think the Internet circa 2000. We're in a similar spot at this time with ABM—we haven't even scratched the surface of business possibilities with the new marketing discipline.
Software packages have been introduced in the past year for the first time focusing on the automation of ABM activities. For example, tools that enable B2B marketers to automate multi-channel actions in response to engagement, or alternatively in response to a lack of activity. The new automation capabilities enable B2B marketers to take action across multiple channels based on real-time triggers.
Greater Adoption Among Smaller B2B Companies
Now companies of all sizes are dipping their toes in the account based marketing waters.
According to the 2017 Marketo ABM Benchmark Survey, merely 33% of B2B SMBs are conducting ABM. Having seen the success of larger organizations with account basedmarketing, it's only natural that adoption will rise among SMBs in the coming years.
The tactic is actually well suited to SMBs, in that it's a more efficient form of marketing than advertising or inbound marketing. Plus, you can engage directly with your most highly-valued prospective accounts, and you can hear directly from your audience and learn exactly what's on their minds. In addition, marketing and sales are directly aligned, and the ROI is easy to measure.
Tom Shapiro is CEO of the B2B branding and marketing firm Stratabeat.
---
You May Also Enjoy:
---