9 Reasons Other Companies' Webinars Are Better Than Yours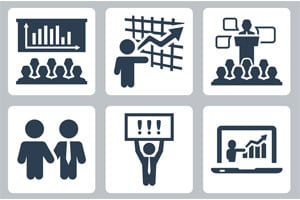 Almost two-thirds of marketers use webinars to attract and nurture prospects, and for good reason. Webinars allow for dynamic content and real interaction in a scalable way, bridging the gap between static content marketing and the in-person sales process.
But running webinars, and running webinars successfully, are not necessarily the same thing. Webinars work, but they're more resource- and cash-intensive than many other digital marketing tactics. That means you have to be strategic in order to see substantial ROI.
So what separates the webinar winners from losers? Companies who see significant return on their investment typically do these nine things.
Ask the right questions. Think carefully about which fields you want to include on your registration form. Too many can be a turn-off, but requiring information like industry or job title/level helps you better understand your audience (see #4) and follow up more effectively. For even more information, consider including additional free-form fields, like topics of interest or why they're attending the webinar, but not making them required.
Set expectations. Tell your attendees what to expect before, during, and after the event. Let them know beforehand if you'll be sending out the recording (which you should), who's speaking, about what, for how long, and why they should care. During your webinar, explain how Q&A and chat will work. At the end, tell participants what you'll be sending them as a follow up, and when.
Hit the promotional sweet spot. Promote your webinars too heavily and you risk annoying your audience, but hold back and your attendance goes down. Three emails, one per week leading up to the webinar, hits that friendly reminder sweet spot and increases registration by up to 36%. Don't forget the day-of reminder, too. It's not unusual to get last minute sign ups.
Customize your content. Review your list of registered attendees before the event and customize content to that crowd. Perhaps most participants are from a particular industry, or have a common job title. The more specifically your content speaks to your audience, the more effective it will be. This is a great way to use the information that you gathered from asking the right questions at registration. Update your slides if necessary, but it's also okay to just address your audience's particular circumstances and concerns in your narrative.
Over prepare. Raise your hand if you've attended a webinar that started 5 or 10 minutes late due to "technical difficulties." Don't be that person! Log in to your webinar platform 30 minutes before the event begins to ensure that your slides are ready, the audio is on point, and any interactive features are queued up. Run a test with a co-worker to make sure. Turn your phone on silent, quit your email client, and switch any instant message applications to "do not disturb." Review your notes, and give yourself a few minutes to breathe and prepare. Want to really over-prepare? Consider prerecording your webinar to ensure that it's flawless, while still building in interaction to make it seem live (see #8). 
Make it interactive. A good webinar platform provides multiple options for interaction during your webinar, including chat, Q&A, surveys and polls. Make the most of these features. Explain how they work at the beginning of the event, and encourage conversation throughout. Instead of reading your slides, ask questions and engage with the participants. This is most effective when done in real time, but saving Q&A for the end works, too. Peer-to-peer sharing and learning is valuable – it increases engagement and deepens your relationship with your community. 
Keep it moving. It's easy to lose your audience's attention when you're stuck on a screen. Hold their interest by presenting new slides every 15-30 seconds. It may sound fast, but that pace forces you to provide diverse visuals for each point that you make, furthering your message and keeping your presentation fresh and fluid. 
Go hybrid. Maximize your time and resources by using recorded webinars with "simulive" functionality. Many platforms now allow you to present recorded content as if it were live, including chat and Q&A, so you can reuse presentations across time zones and audience segments without losing the interaction that makes webinars work.
Run the numbers. Top marketers treat webinars like any other digital marketing campaign, testing and measuring every step of the way. Webinar analytics are powerful tools for understanding what topics and tactics resonate with your audience. Measure things like polling information, where they had questions, where they tuned out, and where they engaged, as well as the basics like how many people registered and attended, and how long they were on. Dig into the numbers post-event to learn what was successful and where you lost people in order to optimize your efforts moving forward.
When well executed, webinars produce more qualified leads per marketing dollar than almost any other lead generation strategy. As usual, the devil's in the details, but get those right and your webinars will pay you back in spades.
Beth Toeniskoetter is product manager for ReadyTalk.
Related Articles:
Creating ABM Synergy: Special Report
How VR Will Change B2B Marketing