7 Lessons from Trump's Approach to Social Media
President-elect Donald J. Trump has put social media in the spotlight like never before. Every tweet is highly scrutinized by and reported on by the media. Pundits and other commentators parse and analyze every word. For Trump, using Twitter is a highly effective method—not only to get his message out—but to keep his brand in the headlines. He credits the social platform with helping him win the election. His followers are having a field day.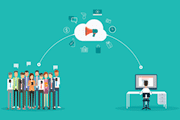 For marketers there are lessons to steal.
Entrepreneur has outlined seven takeaways, including the importance of sticking up for our brands when a customer complains or the press beats you up. In the mix are examples from Jet Blue, Oreo and Denny's that show how other brands have tapped social to respond to complaints in a fun, friendly way or take speedy advantage of a "moment" or harness the power of fans and supporters.
A look at Google Trends today shows just how quickly a brand can get into trouble. Coca-Cola was served with a lawsuit alleging it uses "tobacco-like marketing" to push its sugary drinks to children. The brand quickly landed among the top 10 stories trending on Google, an unwanted position fueled largely by social media. So take note of these seven lessons to improve your social media marketing. Read the article …
Related articles:
ANA Lists Potential Legislative Issues in Trump Administration
No Sugar Coating in Skittles Response to Trump Jr. Tweet
Three Ways to Win the Social Media Content Game