5 Ideas for Innovative B2B Video Marketing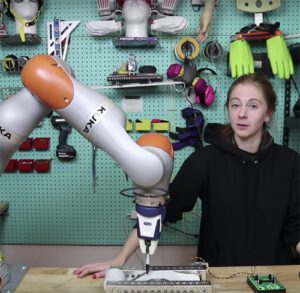 Video an incredibly powerful tool for B2B businesses. YouTube has approximately 2 billion monthly active users. Aberdeen Group reports that video marketers generate 66% more qualified leads than marketers who don't use video. And according to Wyzowl, 83% of marketers say that video gives them a significant ROI.
But it isn't enough to simply create videos. You need to create videos that will make your brand stand out from the crowd. Here's five ways to make that happen.
Using Video to Personalize ABM
Creating customized or personalized videos as part of an account based marketing campaign can be incredibly effective to help generate leads and land new customers. This is especially the case when you create a one-off video for a target company or individual.
For example, let's say that you sell IP detection software for businesses. You could create a personalized video for a prospect, walking them through an initial analysis you've done on the company's actual website traffic, with tips for how to respond to different types of site visitors based on the behavior displayed.
Shooting videos that are specifically directed at a company or person is a powerful way to grab their attention and get them to engage with you. It's also an effective way to differentiate yourself and your brand from competitors.
---
To hear more B2B marketing tips from Tom Shapiro, join us at LeadsCon's Connect to Convert 2019 in Boston, Sept. 25-27
---
Increasing LinkedIn Engagement
Like most social media platforms, LinkedIn has been giving more exposure to videos of late. Additionally, 84% of marketers who have created videos for LinkedIn have found the channel to be a highly effective strategy for generating results. This presents a unique opportunity for marketers.
Sharing videos is one of the most effective ways to cut through all the noise on LinkedIn. Dave Gerhardt, VP of marketing at Drift, is a great example. Typically, he will generate hundreds or thousands of engagement events for a single LinkedIn video. For our clients here at Stratabeat, we notice 3X – 5X engagement on social posts featuring video.
Highlighting Customer Stories
We all know that social proof is critical when it comes to building your brand and landing new clients. Getting clients to tell their stories is one of the most powerful forms of social proof your brand can deliver, especially when it's on film.
But get creative when getting your clients to tell their story. Don't simply have a talking head giving a simple testimonial.
HubSpot created an outstanding customer success story around their work for the Rock and Roll Hall of Fame. They crafted a highly engaging success story, featuring a rock soundtrack in the background, MTV-style quick-changing shots, brief interviews, lots of zooming in and out, etc. The result is powerful and compelling.
Another example is a Slack and Sandwich Video collaboration that highlights the power of Slack. The video is presented as a story, with many funny cuts to employees providing their commentary. Not only is the video enjoyable to watch, but it also shows why Slack is such an effective tool for businesses. And with more than 1.1 million views, the video has generated a good amount of visibility and social proof for Slack.
Leveraging Influencers
B2B businesses are increasingly seeing the value of working with influencers, but it's still new enough in the B2B space that it may enable you to jump ahead of your competitors. A good example of a B2B business using video and influencers is the robotics company Kuka. In an effort to promote a new product launch, Kuka lent the popular robotics influencer Simone Giertz the company's new industrial robot arm. With it, Giertz created a hilarious video in which she programs the robotic arm to help her write 2,000 holiday cards.
Was it worth it? The creative video garnered over 1.4 million views, more than 11X higher than any videos published by Kuka itself.
Showcasing Your Personality
Video is also a highly effective way to turn something mundane, such as an out of office message, into something truly magical. Andy Freed of Virtual, Inc. created an epic, 27-minute video to tell people that he was out of the office and would return soon.
Not only does this highlight Virtual's creativity, but it shows off the brand in a way that is entertaining and fun. It shows that the company can take even the most mundane things and turn them into something magical.
On top of this, videos like the one created by Virtual also have the potential to go viral, which will give even more exposure to the brand.
Tom Shapiro is CEO of Stratabeat.
---
You May Also Enjoy:
---