4 Ways Food Brands Make Influencer Marketing Work
Influencer Marketing is the idea of partnering with social content creators, those with key audience's on networks like Facebook, Twitter, Pinterest, YouTube, Instagram, to help satisfy the consumer's insatiable appetite for stories and opinions about products they buy.
The exploding industry is attracting millions of dollars from brands and agencies looking for solutions that help them scale the creation and distribution of consumer content. As the market matures, we are beginning to see that consumer verticals have better success than others. For instance, do an online search for the best influencer marketing campaigns and you will get lists that include a disproportionate number of consumer food brands.
Leveraging bloggers and collaborators on social media is paying off big-time for food brands like Kraft, Whole Foods, Horizon Organics, Coca-Cola and Black Box Wines as they see increases in awareness, customer engagement, and sales. What do these marketers seem to understand better than others? I dug into some popular food-related influencer campaigns and came up with some attributes they all seemed to have in common.
1. They let the conversation be about the consumer, not the brand.
Influencer marketing programs work best with content that provides value to the target consumer. It should be authentic and thought provoking with subtle references to the brand, instead of being just about the brand. Marketers have to change their mindset from telling the customer about how great their products and services are to letting the conversation be about the consumer, their experiences, and their happiness.
Consumers love content that makes them laugh, cry or learn something and the best source of this kind of content is often from another consumer. The food industry gets lots of mileage from this approach since people love talking about recipes, restaurants, deals, celebrations, etc. It is much harder to get consumers to talk online about their finances, birth control, health issues or auto repairs.
2. They understand the impact of visual content.
One of the items that the food industry has going for it is that people love talking about and tweeting, liking, pinning, collecting, tasting and sharing food. A lot. As soon as we tweet what we had for breakfast, we are planning dinner or at least searching Pinterest for vegetarian, gluten-free, non-GMO recipes for leftover Easter candy.
Done right, visual content is visceral, inspiring, entertaining and delectably sharable. Rich content like photographs, videos and infographics get more engagement and click conversions than text alone. One month after the introduction of Facebook timeline for brands, engagement with photos and videos increased 65%, according to Simply Measured. When International Delight launched their new line of Cold Stone Creamery flavors, they leveraged food bloggers to create and share creative recipes. One blogger alone, WillCookForSmiles, garnered more than 28,000 pins on Pinterest for a picture of her White Wedding Cake Milkshake.
3. They take chances.
Food brands seem to take more chances when it comes to influencer marketing. Even though blunders abound, food marketers don't seem to be afraid of the high-risk, high-reward model.
For example, Lays launched a hugely successful social media campaign where they asked fans and influencers to create a new chip flavor for a $1 million prize. They attracted more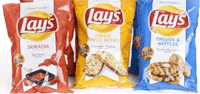 than 3.8 million submissions, manufactured and tested 25 flavors, and pushed the top three flavors, Cheesy Garlic Bread, Chicken & Waffles, and Sriracha, out to stores for consumers to taste and vote for on social media. They experienced a 12% increase in sales and the Cheesy Garlic Bread flavor was added to their family.
Tyson Nuggets used influencer marketing to help increase the sale of overstocked chicken nuggets. Influencers invented and shared unique, entertaining ways to use chicken nuggets in their holiday recipes and helped increase sales by 42%. Letting influencers get creative and create content their readers loved helped increase the exposure of the campaign and product sales.
4. They get more mileage out of content by repurposing branded assets on owned media.
Brands spend significant time and money working with influencers to create interesting blog, Facebook, and Twitter posts. That influencer content should be re-purposed onto owned media sites as well. Brands need to make sure that this content doesn't just live on the influencer site, but is also shared on branded sites. Influencer content should also be easy to share with social sharing buttons embedded in the posts.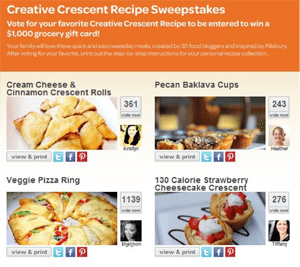 Pillsbury garnered extra attention for their influencer content when they aggregated posts and images to a branded hub page and gave visitors a way to view, print, vote, pin, like, share, and tweet right from the branded page.
Food brands aren't the only companies doing influencer marketing well but they do seem to have more success creating entertaining, engaging, and sharable content that keeps people talking.
Holly Hamann is co-founder and CMO of TapInfluence. You can follow Holly at @HollyHamann.