3 Steps to Stop Losing Leads
Your business may have a horrible problem—and you could be totally unaware of it. You want more customers, right? You're marketing your business – offline, online, or both – all to help drive more sales and ultimately revenue. But what you may not realize is that you're losing many of the leads you're working so hard to get. In fact, at every stage of your sales funnel, you could be leaking leads.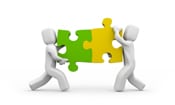 What if by making just a few changes, you could get more prospects to discover, contact, and choose your business? The good news is that fixing many of the lead leaks doesn't have to be a difficult process.
By putting some basic best practices into place, you can stay top of mind with your leads and ultimately earn more of their business. Here are just three ways you can stop leaking leads.
1) Build a Smarter Website (And Bring Visitors Back with Retargeting)
The foundation of a great online marketing program is to have a professional, well-designed website that is built to impress visitors and entice them to contact your business.
But surprisingly, up to 50% of small businesses don't have a website at all, and 49% of small business websites don't list their phone number on their home page. Sadly, these businesses are leaking leads. So ask yourself: When is the last time you updated your website? How well does it convert visitors into contacts? You can take the first step in stopping lead loss by focusing on making sure your website is built to convert – and that it's smart enough to tell you exactly how well it's converting for each of your different marketing sources like organic search, paid search, social media, and others.
Many visitors won't be ready to buy when they first look for your business—they're what we call "tirekickers," who are just looking for information. Once you have an awesome website under your belt, you can entice these visitors to come back to your site by using retargeting advertising, helping you reclaim lost visitors and get more conversions.
2) Respond to Leads Immediately
Once a prospect has contacted your business, what happens? The answer to this question is one of the bigger sources of lead leaks for small businesses. If you aren't quickly following up with new leads (within minutes, not days!), you are probably losing them to competitors. In fact, research shows that up to half of consumers buy from the businesses that respond back to them first.
If you rely on a voicemail system or answering service to help you manage the calls coming into your business, it's important to return those quickly – within the first hour is ideal. The same is true with responding to emails and form submits.
3) Follow Up With Emails
How are you staying top of mind with leads – and even existing customers – after their initial contact? This is an important question to ask, because if the answer is "I'm not" – this is a source of lead leaks that you can easily stop by putting automated follow-up and nurturing emails in place. In fact, research shows that emailing a new contact within 20 minutes boosts conversion rates by 49%.
Many businesses talk to dozens, even hundreds, of potential customers every day but never ask for their contact information. So the first step is to make sure your staff collects email addresses in a lead management system. Then the options for email follow-up are endless: automated "thank you" emails to new contacts, alerts about sales and promotions, news about new products and services, helpful tips, testimonials from happy clients, and more. Automated emails are an easy way to stay top of mind with the prospects who have already shown interest in your business so you don't let these leads go cold and lose them due to poor follow-up.
Todd Ebert is the CMO of ReachLocal.