3 Steps to Rewrite Your Organizational Structure and Meet Marketing Goals
Is the structure of your in-house marketing team getting in the way of your goals? Based on findings from TrackMaven's latest "Marketing Leadership Survey," the answer might actually be "yes."
While just over 60 percent of surveyed marketers cited "increased sales" as their top priority, only about 23 percent are compensated based on new revenue or successful sales, and only 50 percent indicated they measure their success based on leads and sales metrics.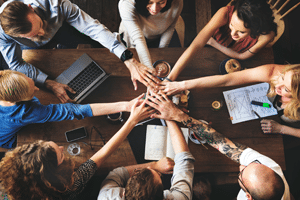 Of course, leads are an important component in measuring the effectiveness of a marketing campaign, but they're just one component. Marketing needs to help deliver the entire sales plan, and that includes what happens outside of the lead funnel.
Leads don't pay the bills—closed-won sales do. If your marketing team members don't understand which leads turn into paying customers, they can't adjust accordingly or increase revenue. And righting that wrong involves switching up how your teams are structured.
Breaking Down the Barrier Between Sales and Marketing
Most marketing leaders grew up with traditional structures that typically have hard lines around marketing functions, personas and segments. This model has persisted solely because it's easily digested and replicated.
But if you want a marketing plan to lead naturally to sales, it makes more sense to integrate the sales and marketing departments. Perhaps that's why only about 17 percent of marketers have strictly siloed departments anymore, according to a survey by the Association of National Advertisers.
---
Other articles you might enjoy:
---
Marketing teams at advanced organizations are becoming data-inspired and tech-savvy; they're insourcing more than ever before; and similar to the way technology evolved to favor lean and agile methods, marketing is following suit. A recent McKinsey & Co. report found that 71 percent of high-growth organizations have already implemented company processes such as cross-functional and co-located teams, as well as agile work environments.
Performance Drives Progress
So which team structure lends itself best to a unified, growth-focused organization? Really, this is the wrong question to ask because leaders cannot draft a marketing strategy from an organizational design.
It seems simple, but I have seen leaders miss this point countless times. The organizational design must emerge directly from the marketing strategy—which, in turn, must be rooted in the business strategy. Once that hierarchy is in place, the role of each team and success metrics should be crystal clear. These cross-functional teams will cluster together around a clearly defined common goal rather than just check off boxes on the standard organizational chart.
But how do these ideas play out in practice? Take these three steps to determine the right approach for your team:
1. Set strategy goals
Have you clearly defined your marketing strategy and associated goals? Does that strategy line up with your corporate strategy and sales goals? Once you are confident that everything is aligned, work backward to create a personalized organizational model.
Take a look at the customer journey and organize your teams and metrics around it. For instance, who is responsible for early engagement, and how is his or her performance measured? Who will be in charge of moving customers to the decision phase? Which group within the marketing department will be responsible for closing deals, and how will that happen?
According to eMarketer, 55 percent of marketers report that their companies don't understand the customer journey. By properly centering your team around the full customer experience, you'll end up meeting your goals through the process of serving your customer.
2. Let your metrics trickle down
Leaders must set top-level business goals before those goals can cascade to other departments. From there, it's imperative that your marketing team aligns with sales and product departments, and likely others, to set shared goals. There will still be a few marketing-specific performance metrics, but the top-level goals of the marketing team should be well-known and agreed-upon companywide.
A recent study by the CMO Council and Deloitte found that two-thirds of CMOs said their company boards expect the marketing department to drive business growth. Furthermore, 27 percent of CMOs have a direct impact on the growth strategy for the entire business, often even more than that of the CEO.
A renewed shift toward customer-driven value has put marketing teams in charge of applying metrics companywide rather than to just an independent sales team.
3. Blend short- and long-term metrics
Even though you shouldn't focus on the short term, sales should determine a portion of a marketer's compensation. This breaks down departmental silos by encouraging alignment and collaboration across various departments.
But be careful not to sacrifice long-term priorities, such as your brand's values; these should continue to inform companywide decisions. The best compensation models incentivize the right short- and long-term behaviors and reward them accordingly.
The goal isn't to simply increase lead generation but to convert a higher number of those leads into revenue and closed-won sales. By sharing performance goals, all your marketers will remain focused on the same underlying goals and bring your company to the next level.
Josh Mueller is the global head of marketing for Dun & Bradstreet. Josh can be reached at josh.mueller.dnb@gmail.com.