2012 PRO Award Winner: MSL Group for UL
Nonprofit organization UL, which has been testing, certifying and inspecting consumer products for 118 years, suffered from low awareness. With the rate of household accidents high during the holiday season, UL wanted to create a home safety campaign that would generate awareness of holiday dangers, and position UL as the safety organization that can help protect everything in their world, increasing awareness of the organization by 10%.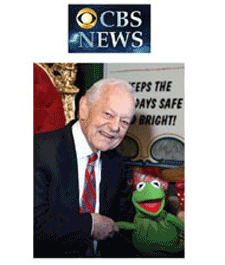 Since it only takes a minute for a tragedy to occur, and to help prevent it from happening, the promotion theme from MSL Group was "Commit a Minute to Safety."
UL partnered with The Muppets characters known for their dangerous antics to showcase holiday home safety in a humorous, visually compelling way and tied in with the release of Disney's new movie The Muppets.
Three UL-branded safety vignettes and a national television PSA were created featuring Kermit, Professor Bunsen Honeydew, Beaker and UL's spokesperson showcasing the Do's and Don'ts of holiday safety. In addition, the PSA on holiday string lights and Christmas tree safety was shown in front of more than 100 advance and private screenings of The Muppets.
For support, a print ad appeared in Parents, Parenting, babytalk and American Baby. Display ads featured The Muppets on Disney.com, Nickelodeon.com and Parenting.com. The voice behind Kermit the Frog recorded a UL Holiday Safety Minute radio spot for the Radio Disney network.
UL sponsors The National Christmas Tree Lighting in Washington, D.C. and the Chicago Tree Lighting. Both locations featured UL custom-built Santa's Workshops where families could get their photos taken with Santa, view the PSA, and receive Muppets-character buttons featuring UL safety messages. Attendees were encouraged to visit SafetyAtHome.com to view and share their photo throughout their digital networks.
A media tour from Santa's House in Chicago and with Kermit in D.C. for interviews with CNN's "The Situation Room" with Wolf Blitzer, CBS News' Bob Schieffer, The Weather Channel and The Examiner.com. In the live PBS broadcast of the National Tree Lighting, Kermit joined First Lady Michelle Obama to read 'Twas the Night Before Christmas and deliver UL's safety messages.
Overall, the campaign succeeded in increasing awareness by 20%, purchase intent of UL-marked products by 11% and advocacy by 22%. Social and digital media were also used, including a mobile site, and shareable email alerts. PR drove more than 515 million impressions, including features on HuffPo, USA Today, The Wall Street Journal Online, Good Morning America and more. More than 43,000 Facebook fans were added as a result of the campaign.