TV Spots, Price Discounts Work Together at Store Level: Research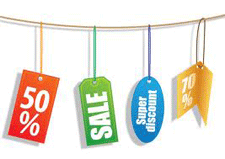 Combining short-term price reductions and television advertising can make those TV spots more effective at increasing sales, new research from dunnhumbyUSA and media measurement agency TRA has found.
Traditional media buying has held that a marketer running a TV campaign at the same time as a discount campaign runs the risk of diluting the optimum sales impact of that temporary price cut, since households may increase their buying simply by virtue of having seen the TV campaign. In other words, the use of a branding campaign on TV may undercut the effect of the price reduction, since branding focuses on building a belief in brand value.
But new research from the two agencies, presented Monday at the Advertising Research Foundation's Re:think Conference in New York, finds that in the case of six different specific brand price promotions, TV ads did not effectively weaken the sales effect of the price campaign. In fact, when a TV campaign is combined with both a short-term price reduction and an in-store display campaign, brands can see a sales lift that is as much as 11 times the expected response from a TV campaign alone.
"It's a non sequitur to conclude that the right action to take is not to run TV and a temporary price reduction simultaneously," the report finds. "TV may weaken price as a stimulus but the temporary price reduction retains much strength to multiply the sales lift TV alone would have."
The dunnhumbyUSA/TRA study takes a combined view of some of the viewing habits of 2 million U.S. household set tops monitored by TRA and the purchase behavior of 60 million U.S. households recorded anonymously by dunnhumbyUSA. Specifically the research examines the TV and shopping of customers shopping at 2,500 U.S. retail stores, matching their viewing to their subsequent purchase behavior in three product categories: ready-to-eat cereal, yogurt and toothpaste.
Two major brands were chosen within each of those categories to represent varied media mixes in TV, in-store and price campaigns. Brand activity was then analyzed over periods of time ranging from 8 months to 14 months, depending on the brand.
That analysis found that within each of the six brand case studies, about 50% of the households reached with a TV campaign were also reached by discount campaigns. In those cases, the campaign-long sales lift averaged 11.8% higher than the increase from just TV exposure alone.
"The TRA/dunnhumbyUSA study shows how the three main drivers of positive brand purchase work together on the household level," TRA chief research officer Bill Harvey said in a release. "This research dispels some common industry myths and illustrates how household-level analysis can be leveraged by marketers to maximize sales and optimize a media spend."
The report concedes that many questions about the TV/discount integration remain to be answered at the household level. These include whether price-sensitive consumers are more responsive to an integrated campaign, how effective such campaigns are at reaching new versus lapsed buyers, and whether the results found here—based on a one-year return on investment—would be borne out over the course of a two-year study.