E-gift Cards Offer Marketers More Sales, and Customer Service Opportunities
Legend has it that Blockbuster introduced the first gift card back in 1994. Since then, gift-card sales growth has been astounding, soaring from $19 billion in 1999 to $97 billion in 2010.
While e-gift cards currently account for only 4% of overall annual gift card sales, they are rapidly being adopted by more and more shoppers: Nearly 20% of consumers purchased or received one last year, an increase of 50% over 2010, according to First Data. Virtual gift card sales are projected to reach $8 billion by 2013 and $11 billion in 2014, according to Tower Group. Sales will only continue to grow as social networking sites and mobile capabilities proliferate and marketers reach out to a broader audience.
"Some 59 of the top-100 brands are selling e-gift cards today, with almost all of the brands trying to figure out how to do it," says David Nelsen, CEO of Giftango.com. "I think 2012 will be a big year."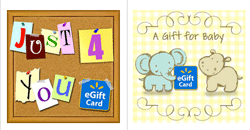 Buyers of e-cards tend to be single, female college graduates who enjoy the speed and ease of delivery, but marketers are working to expand that base.
"A person could just as easily buy a gift card for Lowes as for Chili's Restaurants, so all of these brands should be doing a good job of marketing e-gift cards," Nelsen says.
Maximizing Merchandising
According to a recent survey from CashStar, 75% of the marketers who have finished their budgeting plans for the year plan to increase the share of their promotional budget devoted to e-gift cards.
Here are six tips to improve your gift card marketing efforts:
1. Be different: Marketers should figure out what makes their e-cards different from all the others and then promote those benefits. For example, some brands are offering auto-reload for e-gift cards to encourage repeat business and loyalty.
2. Increase visibility: Promote e-cards in stores and within other marketing materials. Home Depot includes messaging on its instore gift card malls to alert consumers about its e-gift card option. Market the cards on your home page, as well as throughout your site.
"You shouldn't have to click four different links to get to the gift card section of a merchant brand—that's something that should be very prevalent," Nelsen says.
3. Be creative: Broaden your design styles and customization options. Walmart offers 64 designs for the cards on its website, everything from Earth Day to weddings. And think about Starbucks—its designs are unique to the brand, and yours should be too.
4. Out of stock? No problem: Add a "purchase a gift card instead" option on your website—or instore when an item is out of stock.
"A lot of consumers, especially in a gift-buying capacity, have a pretty good idea of what they want, and if the item is not available, people are willing to choose a gift card instead of buying something else that they are not sure the recipient would like," says Michael Hursta, vice president of prepaid services at First Data. "The point as a retailer is that you've already got someone in your store who's looking for something, and the last thing you want is for them to walk out of your store empty handed."
5. Consider proximity: Use flexible displays promoting gift cards as an alternative so they can be relocated close to any items that are running out of stock. Design cards to coordinate with the out-of-stock items.
"In a digital world you can react faster if things are moving out of stock," Hursta says. "It's easier to present the consumer with the option to purchase an electronic gift card."
6. Promote employee awareness: Employees should be trained to offer gift cards when a specific item is not available.
"In that situation, it's not hard for an employee to say, 'You can purchase a gift card or do the same online. And here's a way you can design that card to be focused toward the specific product you wanted so the recipient can see you put some thought in to the gift,' " Hursta says.
Mobile Convenience
Mobile will ultimately be a "game changer," taking the convenience of gifting to a whole new level, says CashStar CEO David Stone.
Mobile is rapidly emerging, in particular for retailers who have invested in being able to scan barcoded e-gift cards at the point of sale. Starbucks is a good example. Increasingly, its customers are buying e-gifts through their mobile apps and sending them to hundreds of thousands of their favorite friends and family members, who in turn can redeem them instantly at the point of sale.
Web gifting, or the ability to purchase an e-card from a mobile phone on the mobile web, is also emerging. Some 35% of consumers who own a smartphone now access the web through the mobile device. CashStar has enabled this capability for all Gap and Williams-Sonoma brands, Stone says.
New Uses
Once brands have solved the problem of being able to process e-cards at the point of sale, including via mobile phones, by either scanning or hand keying in the code, they have opened up a world of opportunity for leveraging e-gift redemption for other purposes.
1. Customer service: Customer service issues can be immediately resolved by sending an e-gift. For example, if a customer was dissatisfied with a bouquet of flowers delivered to a friend, respond with an apology and an e-gift card.
2. Loyalty customers: E-cards provide an instant "thanks" to loyal shoppers. "It's an easy way to say thanks for shopping with us that's pretty powerful," says First Data's Hursta.
3. Partnerships: Partner with other merchants or reward programs, like Shopkick or Viggle, to broaden reward offerings, says Giftango's Nelsen.
"There's a whole new world of mobile reward," he adds. "For retailers to be able to immediately present someone with an e-gift card on their mobile phone, which drives the consumer into a store—that's very exciting. It's a big advantage for the retailers."