Clif Bar Gets People Geo-tweeting for a Coupon
Since July 30, more than 400 people have taken the time to send a geo-tagged tweet that captures them during a favorite outdoor summer activity at a park, beach or on a trail to @CLIFMojoGo. In return, Clif Bar sends the tweeter a link to claim a coupon for a free Clif Mojo Bar, a sweet and salty trail mix bar.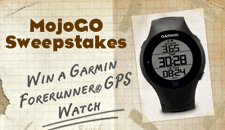 While 400 tweets is arguably a good start, what is happening online is even more encouraging. At the online site dedicated to the promo, more than 8,000 page views and 2,000 video views explaining the Twitter campaign have been recorded, with people spending more than three minutes on the page. The promotion runs through Sept. 3 so those numbers will surely rise.
Sending a geo-tagged tweet requires a person who likes the brand and is willing to spend a bit of time to have a little fun with Clif Bar and likely to spread word of the promotion virally. This bodes well for the brand that can then tap into these advocates to find new customers.
"Clif Bar's approach to social media is unique," said Michelle Ferguson, executive vice president of marketing, Clif Bar & Co. "Our company started with a very grassroots philosophy, to bring our products to where people are and engage in conversations with them about their active lives. When we decided to start investing in social media, we just broadened our definition of that same approach. We view our online conversations in the same spirit as the conversations we have in person—we're just using technology to have them."
To receive the coupon, part of a much larger sampling program the brand engages in on a regular basis, the tweeter is directed to the website to download the offer. So far about 300 coupons have been fulfilled for people who have successfully used geo-tagging that was verified to have been taken from a required location.
The process is explained briefly in a video on the site and on YouTube:
Adding another layer to the program, people who submit separate tweets on subsequent adventures are entered into a sweepstakes for a chance to win a Garmin Forerunner 610 GPS heart rate monitor watch, Clif Mojo branded gear or a box of Mojo bars.
As a company, Clif Bar has more than 100,000 Twitter followers after two years of actively using the tool. Since starting the new @CLIF MojoGo handle for the promotion, about 100 followers per week have been added. This is not Clif Bar's first Twitter promotion, however it is its largest.
"While [we have] conducted a number of giveaways on Twitter, MojoGo is our first major initiative as a company, and one that we hope leads to more engagement in this space," Ferguson said.
To market the promotion, Facebook and Twitter fans were, of course, alerted, but so too were a number of bloggers interested in outdoor adventures to share the promotion with their followers.
Clif Bar, which also markets other organic foods and drinks, including Clif Bar energy bar, Luna, The Whole Nutrition Bar for Women and Clif Kid, will analyze coupon redemption and overall brand exposure to understand its return-on-investment in the promotion.
Each year, Clif Bar executes a number of Facebook and Twitter giveaways that celebrate outdoor adventure, usually distributing up to 5,000 bars with each initiative. In addition, it conducts extensive field event and food sampling at sporting activities and expos, and encourages trial through partnerships with like-minded organizations.