2012 PRO Award Winner: The Marketing Arm for GameStop
As the No. 1 game retailer in the U.S, GameStop contributes the majority of sales to the "Call of Duty" franchise and plays an integral role in the success of each game.
Heading into 2011, Activision set its sights on raising the bar with the release of "Modern Warfare 3." The goal for GameStop's "Modern Warfare 3" pre-order campaign was a 25% increase over last year's Black Ops reserve.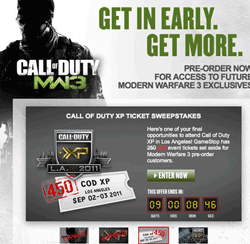 Research showed that 44% of past "Call of Duty" players reserved their title to get a pre-order bonus. The top four out of five preorder incentives were chances to win cash, vehicles, VIP trips and access to "Call of Duty" events. In addition, 31% of "Black Ops" owners waited to see which retailer had the best pre-order incentive before making their pre-order decision, resulting in the majority of gamers being undecided (and available) during the summer and fall months. The pre-order incentives, developed by The Marketing Arm, were tailored first to core "Call of Duty" loyalists in May, and then expanded slowly to a broader audience as the game's launch neared. The promotional theme was "Get in Early, Get More," with the key message throughout the campaign being that the earlier customers pre-ordered, the more they were rewarded all year long.
Offers included a limited-edition, double-sided poster revealing key plot elements from the game; a sweepstakes with a 450-ticket giveaway and an all an expense paid trip to a VIP event in LA; a contest awarding four spots in the Call of Duty XP $1 Million Tournament; never-before-seen footage and developer commentary on GameStop's website; and an online "Pick Your Perks" sweepstakes targeting the mass gaming audience, with top prizes being a 2012 Jeep Wrangler and a trip around the world.
Over the seven months, the integrated campaign used a mix of TV, online media, in-store, social media, email, employee initiatives, PR and influencer outreach to enthusiasts. All supporting communications drove consumers to www.gamestop.com/modernwarfare3 to pre-order.
The "Call of Duty: MW3" pre-order campaign resulted in sales that exceeded the target goal by double digits. The "Pick Your Perks Sweepstakes" received more than 1 million site visits from 627,000 unique visitors over a 35-day period.