2012 PRO Award Finalist: Momentum Worldwide for Kraft Foods
One-hundred-year-old Triscuit has been losing share to younger competitors and it was searching for a fresh hook. Research showed an increase in people growing their own food and participating in community gardens. This trend fit Triscuit's value system, and the "Triscuit Home Farming" promotion was born.

In 2010, Triscuit partnered with Urban Farming, which supplies food to the needy by starting and sustaining gardens on unused land while also educating people about health, wellness and community vitality. Together, they planted 50 community-based home farms nationwide. In addition, millions of seed packets were distributed on boxes of Triscuits.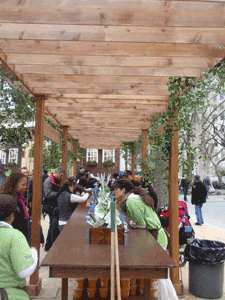 In 2011, Triscuit and Urban Farming broke ground for 15 additional community-based home farms in urban food deserts, then planned Home Farming Day to celebrate the movement.
Media included a national e-blast, banner ads and seed-paper postcards mailed to New Yorkers. In the two days leading up to Home Farming Day, Triscuit brand ambassadors stood in New York City's Worth Square just outside the event location of Madison Square Park and distributed thousands of Triscuit-branded home farm kits (which included a small pot, soil and seeds).
A press conference in the park officially declared April 12 Home Farming Day and introduced Urban Farming as a key charity partner. Throughout the park, interactive stations invited passersby to start a home farm by planting chive seeds in takeaway pots complete with complimentary branded gardening gloves. People could visit the Urban Farming station to learn about the charity and discover how to get involved with community-based home farms.
A 20-foot digital wall displayed live video of the day's activities as well as simulcasting two community-based home farm groundbreakings in Los Angeles and Tampa. The three emcees (New York, LA and Tampa) conversed live, shared stories from their local communities and talked up the key messages of the Home Farming movement. In New York, HGTV's Paul James, "The Gardner Guy," hosted planting demonstrations throughout the day and engaged the audience in a Q&A.
Participants could join the movement at a digital kiosk by liking Triscuit on Facebook and send a seed-paper postcard to friends and family using the postcard station.
To get visitors experiencing the end benefits of home farming, everyone sampled a variety of locally sourced, farm-fresh Triscuit recipes at the Home Farm Café and received an "I'm a Farmer" magnet and a branded bag.
More than 5,000 consumers attended the New York event despite an all-day thunderstorm, with 2,755 consumers planting home farm kits on-site during the event. Roughly 23,000 kits were distributed.