Trade Show Marketing Do's & Don'ts: Ways to Annoy Your Prospects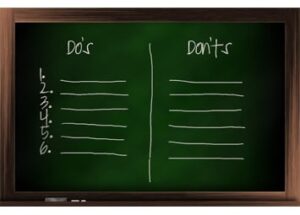 This article is an excerpt from "Trade Show and Event Marketing: Plan, Promote and Profit." Author Ruth Stevens will present the session "Maximizing Trade Show Success: How to Prepare For and Deliver on Your Marketing Efforts to Ensure the Best ROI" at the B2B LeadsCon Summit, Aug. 14-15 in New York.
The frightening thing about trade show marketing is the inherent fragility of customer good will. For all your careful planning and good intentions, a single snafu can destroy years of relationship building in an instant. Some snafus will be out of your control, but with a bit of foresight, you can reduce their frequency.
The following are some recommendations from business people in a variety of industries who attend shows regularly.
• Keep one eye out for prospects. Gloria Kurant, a retired consultant in the teleservices industry, relates this tale from her experience at an industry show: "There were three people working the booth. I was chatting informally with the senior executive—it was a general conversation, not need-specific. The other two sales people were hanging off to the side, engaged in a conversation among themselves, one with his back to the aisle. I noticed a prospect approaching, but she was ignored by the two reps. I mentioned to the senior executive that we could talk later, motioning to the prospect. But he scowled and said that's the reps' job—not that they were doing it. The prospect wandered off."
• Your badge is not some hip accessory. Kurant also wonders why badges these days are allowed to dangle down around the exhibitor's navel. "Why don't badges come with a clip and a pin any more? These badges on long hanging ropes make me bend over to places I don't want to be bending, and then they are usually flipped upside down anyway. Badges need to be place on the upper right shoulder, where they can be easily read when shaking hands or saying hello."
• Love the one you're with. Carol Myers, CMO of Rapid7, wants the booth staff 's respect during a demo: "I was getting a demo of a product I was very interested in from a booth staffer. Another of the company's staffers kept interrupting to tell the individual who was demonstrating for me to hurry up because he had another prospect to demo to. How rude!"
• Don't force it. She also recommends that exhibitors take "no" for an answer. "Once I tell you I am not interested in your product or service, don't continue to accost me or try to get me to enter your sweepstakes," says Myers. "I am not a good prospect, and you will just be wasting your time. You'll enter my name and address and continue to market to me when I have no use for your product."
• Keep the weight off. Myers cautions that bulky collateral material is ineffective: Don't bother giving me lots of collateral or thick reports. I never have time to look at those materials while I am at the trade show, and when it's time to pack, they are going to get tossed.
• Keep it professional. Anne Vargo of CDW Computer Centers reminds us. Lose the scantily clad women or men. "The sexy stuff might work at the consumer shows, but not with business buyers. And make sure your booth people know their product or can put me in touch with someone who does. And, while I'm at it, I hate it when I trip on an exhibitor's carpet. Make sure the thing is glued down properly."
• Don't run out of business cards. Rich Simms of DialAmerica Marketing gets annoyed by lack of exhibitor preparation: Remember to bring enough business cards. And if you do run out, don't ask your prospect for one so you can write your info on the back. This is beyond annoying your prospect—this is insulting.
• Stick with it. One thing Simms deplores is an empty booth: It's so dumb to leave the booth unattended. Prospects are walking by. What are they supposed to think about your company? Nothing good! Make sure you have a relief worker scheduled, and if that person doesn't show up, don't leave—even if your feet are killing you.
• Get a new attitude. Body language is key, adds Simms. If you look like you are tired, hungry, thirsty, exhausted, and angry at the world, I am going to keep walking. Don't be sitting at the table in your booth with sandwich and coffee. Don't be talking on the phone in a loud voice. I am going to get the message you don't want to be interrupted with anything like a question about your company.
• Don't lose the gimmicks. Grace Chan, director of marketing at the Royal Bank of Canada, has a contrarian view on premiums. "As for gimmicks: even though everyone claims they don't work, I notice that they do end up getting me to stop by and spend some time at the booth. A while back I got the cutest stuffed green frog with a little t-shirt on. The company sent me a pre-show teaser mailing with the frog smiling at me, telling me he was at the booth and I could come pick him up. I made a bee-line for it. Of course, the fact that I can't remember the company's name now tells you something."
• Train your booth staff. Ted Seward of 4 Action Marketing shares some of his pet peeves: I expect the booth staff to know the products. So why hire dumb blondes or talking heads? I also have seen sales people playing cards, or eating, and ignoring the passers-by. Why are they at the show? And what about the booth with no exhibitor, just a fish bowl? What's that all about? They should remove their signage before they do something that stupid.
Ruth Stevens is president of eMarketing Strategy. She will be a featured speaker at B2B LeadsCon, Aug. 14-15 at the Marriott Marquis in New York. Click here for more information.