Topic |

Consumer Packaged Goods
Marketers are managing their expenses in this new coronavirus-impacted economy. Ad spend is down, and consumers are shifting purchase behaviors.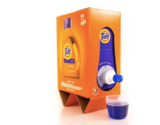 The Tide Eco-Box might be eco friendly, even saving on delivery costs, but some are worried that their aunt Maggie might think its her new favorite wine.