Tips from Grammarly on Creating a Flagship Email Product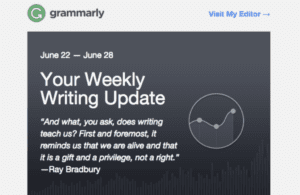 Grammarly Insights, a weekly email blast, is helping the writing assistance platform create engagement for the brand.
The newsletter offers the sites 15 million active daily users weekly activity summaries and awards badges honoring achievements in their use of the site.
At LitmusLive in Boston this week, Drew Price, brand and lifecycle marketing strategist for Grammarly, offered tips for creating a flagship email product for your company.
Brand it: Price notes that he's seeing an increasing number of flagship email products being launched this year. Regular communications that engage and involve your users with your brand can be a valuable relationship building tool.
Keep it going: Flagship emails don't have to go out weekly, or even on a set cadence, he says. But, repeat the mailings often enough to create a momentum for the product.
---
You May Also Enjoy:
---
Make it actionable: This doesn't necessarily mean you need to create a high clickthrough rate. Give your readers something of value that will make it worth their time to open and continue receiving your communications. For Grammarly, this means sharing relevant blog content and empowering users with a view into their site activity, that they can apply to improve their writing skills.
Keep all your users in mind: Consider all the different segments of your audience when designing your product. Not everyone will like everything that you offer. For example, while some users love the badges Grammarly awards for site achievements, not everyone is interested. Those users might be more intrigued by blog posts or other content.
Take your time: If you're creating a new email product, its better to get it right than to get it out quickly. Grammarly spent four months on design and another two on coding before it launched Insights. "Without that thoughtfulness, we might have gotten a false negative with our audience," says Price.
Find the metrics that are right for you: Opens and clickthroughs are considered, but Grammarly also looks at social sentiments. One signal that something they did in an email resonated is social shoutouts. "Sometimes, after the email has deployed, we start to see folks sharing screenshots on social media," he says.