The 12 Tips of Successful Holiday Email Marketing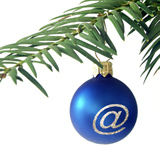 Is your email marketing program ready for the 2012 holiday season? Here's 12 tips to help your team prepare, optimize cross-channel engagement, and increase sales and ROI.
1. Don't let your ISP be a Scrooge—follow deliverability best practices.
Increased email volume from retailers leaves ISPs with an overload of messages to accept, putting your messages at risk of being throttled or never even landing in the inbox. Monitor your brand SPAM complaint and sender score benchmarks as file depth varies. If you haven't already, implement DKIM and other authentication credentials to place you in good standing with ISPs. When the holiday season is in full swing, be nimble with segmentation and have a tier 1, 2 and 3 plan based on customer engagement in the event you need to dial back.
2. Give customers the gift of control with opt-up & opt-down options.
With the surge of email flooding inboxes , not every customer will be engaged and excited about your holiday messages. Combat attrition by developing an opt-down option, or by inviting customers to 'opt-up' if you are considering sending a daily deal. Be transparent and let customers know within messaging or unsubscribe templates that volume will return to normal after the holiday season. Providing customers with options to receive one 'best' offer each week or offering a hibernation period may also be beneficial. Understand your customer lifetime value to measure the importance of retaining customers; this can help these initiatives gain momentum within your organization.
3. Deck the halls with cross-channel acquisition opportunities.
Customers are more than eager to sign-up for email lists during the holidays, so make it easy for them to do so. Now is the time to test and implement new acquisition tactics to ensure customers can easily opt-in for your email program. During the holiday season, track new subscribers and their sources so that you can measure their performance and engagement post-holiday. Most importantly, be prepared to re-engage holiday subscribers after the holiday honeymoon phase is over.
4. Make sure your welcome experience is on the "nice" list.
A surge in new subscribers merits a reexamination of your welcome experience. Analysis of more than 100 retail email partners of e-Dialog and GSI Commerce shows that immediate welcome messages generate four times more revenue than those with a delay. Furthermore, if the current welcome sequence does not provide an overview of your brand, additional communication opportunities, or previews of cross-channel shopping features, think about a content refresh and test the most important elements prior to the fourth quarter.
5. Wrap up your subject line testing now.
To remain competitive, test subject line types now to confirm which garner the best response. Test super subject lines and prominence-of-offer messaging in each.
6. Let Rudolph—and everyone else—interact with you.
Gift guides and persona-driven shopping guides are a popular and entertaining tactic to consider. Other types of interactive elements such as videos, live countdowns in email, or animation can also set your program apart from your competition. If your customers are engaged with Facebook, Twitter or Pinterest you may want to consider providing an interactive exercise to build your own brand awareness and support a more intimate relationship with your email subscribers.
7. Make connections with a smart social strategy.
Don't just create conversation for the sake of creating conversation. Be aware of the increased noise during this season and provide value to your followers. Asking customers which promotion they'd prefer or soliciting votes for top products are more meaningful calls to action than asking if they prefer their hot chocolate plain or with marshmallows. Think about your customers' responsiveness to trends such as Facebook commerce or Pinterest and then build plans around those functionalities if there is a good match. It just might pay off—32% of online shoppers have made a purchase based on what they've seen on Pinterest and other image-sharing sites, according to a survey from Bizrate Insights.
8. Make the most of mobile—even Santa gets 4G on his sleigh!
e-Dialog's retail metrics show mobile penetration more than doubling year over year. In 2011, average mobile share of opens during holiday was 33%, with peaks during weekends and on Christmas Day at 51% (including tablets and the ongoing surge of couch-commerce). Now is the time to measure your share of mobile opens, clicks, and the corresponding devices on which they happen. Consider a creative audit of your current email templates to make sure your customers are having a positive mobile viewing and shopping experience.
9. Free shipping is at the top of everyone's list.
Free shipping was far and away the most popular offer in the inbox during the 2011 holiday season, and is expected by many shoppers. Many free shipping offers had no minimum order requirement and lasted longer than ever. If this is the type of promotion that may be pulled in for only certain segments, enhance your promotional or trigger email templates to easily add a banner that can accommodate a free shipping or standard promotional communication. Having a flexible template available may prove beneficial during quick promotion changes during the holiday season.
10. Evaluate triggered messaging.
Rethink the audience rules, content and timing of automated messages. The holiday season is the perfect time to tighten abandon message timelines or build in cross-sell/up-sell functionality. Suppression logic and offers should also be reviewed as the standard '15% off your first purchase' may not make sense in addition to the holiday promotion cadence. Shopping habits are drastically different during the holidays, so why shouldn't your triggered messages vary as well?
11. Celebrate with extended multi-channel offers.
Black Friday has the reputation of creating excessive shopping mall traffic and Cyber Monday can increase web traffic by a server-slowing 400%. In past years, many retailers extended the period of these sales, often turning Cyber Monday into "Cyber Week." The offers during these timeframes have been extremely competitive with retailers drawing customers in with discounts as deep as 75% off. Although some consumers have come to expect these shopping events, we still see the value in practicing channel agnostic marketing. A retailer that offers customers a positive experience in their channel of choice will be far more desirable than the competition. In the absence of cross-channel parity, however, brick and mortar sales teams should be trained on how to respond by communicating competitive advantages other than price.
12. Address eGift Cards early and often.
If you offer eGift cards, don't wait to Dec. 22 to let customers know about it. Retailers paired eGift cards with last minute shipping messages in 2011 in addition to standard promotional campaigns mid-holiday season. Remind customers of the benefits, especially for those who travel to visit friends and family.
Julianne Manoogian is the client services manager of e-Dialog.