Technology's "Strategic Imperatives" = Marketing Brilliance
Yes, of course, smart thinking still produces inspired marketing. But it's no longer enough. For true brilliance, digital marketers must embrace technology's "strategic imperatives."
A set of technologies that now define and shape innovation—and, by association, digital marketing—namely analytics, big data, cloud computing, mobile, social media and security, have come to collectively be known as the "strategic imperatives."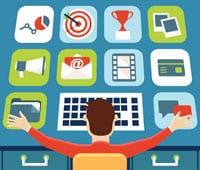 For digital marketers, it's most productive to think of the "strategic imperatives" as framing not only an enterprise's strategic direction but also serving as the wellspring for its marketing and sales campaigns.
Here's a case in point: IBM projects strategic imperatives-related sales will generate $18 billion, or 40%, of the company's overall revenue by 2020. Nearly all of its messaging and marketing mechanics now are built on that paradigm.
Because most enterprises are aligning product development and sales initiatives around one or more of the "imperatives," the opportunity for digital marketers is virtually unparalleled.
With this in mind, a 2016 digital marketers blueprint should be built on three "strategic imperatives:" 1) Data-driven customer engagement, 2) Mobile technology's omnipresence, and 3) Monetizing metrics to measure social media.
We've seen a lot of discussion in the media of these trends but here's why and how to get there:
Back to the Future
Engaging with customers is shifting back to the good old-fashioned relationship marketing practices of customer grooming, retention and loyalty. While remarketing and personalization are still top of mind, be mindful that enterprises are requiring a renewed focus on their place within strategic discussions.
Extracting behavioral information from large groups to profile and anticipate customer needs (think big data and analytics) is fueling this back-to-the-future style trend. And, as digital marketing matures as a practice, the longevity of customer relationships will come into sharper focus.
What's the customer engagement opportunity? A relatively small investment in customer modeling can produce not only quantifiable outcomes but also messages that resonate. In other words, what enterprises trust isn't just the data; it's also a marketer's skill at mining the meaningful/actionable opportunities it reveals.
Be one with mobile
There's absolutely no denying the influence of mobile technology on digital marketing. Mobile isn't the final frontier for digital marketers; instead it's the threshold to remarkable advances. In fact, the developmental flood of mobile apps supporting marketing initiatives has just begun to hit its stride.
Consider for a moment the concepts of geo-location and geo-fencing. The technologies that support them today are able to catalyze real-time messaging. Take these examples that have proven out across industries:
A marketer geo-fencing a retail store can send a discount coupon to a smartphone user with a particular mobile app when the customer crosses a virtual boundary—additionally, that discount clothing information can be sent to a department store shopper's smartphone as she approaches a particular section. Or, when a customer approaches a restaurant's virtual boundary, a triggered message can be delivered with the day's special items on the menu.
Let's say a customer is walking in Manhattan with smartphone in hand as the cloudy sky threatens rain. A savvy digital marketer can target the customer within blocks using geo-location to message the customer's mobile device with promotional offers for umbrellas and raincoats.
What's the mobile opportunity? Partner with experienced, proven mobile providers to pilot programs that have worked for the most innovative companies. By zeroing in on informational needs, proactive mobile marketers can wow a customer.
It's different with social media
Social media has hit its stride as a marketing channel. And, yes, its reach makes it a seductive channel. But know two things above all else about social media: 1) Without a plan, social media marketing is well, useless; and 2) What's said by your customer on social media extends much farther than what you say to your customer.
Social media's success metrics are changing. Enterprises now are less impressed with traffic and impression numbers, instead relying more on monetization metrics. Expect engagements to become increasingly focused on outcomes from the social channel, leading the way on innovating of the social experience to drive conversion and purchases.
What's the opportunity? Start with the tools necessary to critically assess social media's effectiveness, invest in a dashboard that shows conversion and monetization metrics by channel. Also, target one or two campaigns per quarter that emphasize purchase behaviors and construct case studies around the data to socialize the effectiveness of the approach.
The leave-behind. For digital marketers, the question isn't whether to use technology's strategic imperatives—it's how well you use them that matters. Try it and you'll see.
Curtis Thornhill is the CEO of Apt Marketing Solutions. He can be reached at: Curtis@aptmarketinggroup.com.
5 Things You Should Expect from a Digital Marketing Agency
Social Video Practices for Digital-First Brands