SXSW May be Over, but the Takeaways are Still Red Hot
You could have gone to SXSW, attended back to back to back sessions, and you still would have missed more than you saw. The fact is, there's too much content for a person to consume. There's also a tempting distraction of endless parties, free beer and exhilarating Austin spring weather. It helps to have some "Cliff Notes" on what you may have missed.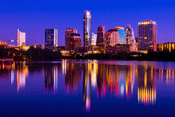 The opening keynote was from Casey Gerald, co-founder and CEO of MBAs Across America, a national movement of MBAs and entrepreneurs working together to revitalize America. He spoke about an awakening he believes is changing business and society. That is making purpose the new bottom line in our lives and work. Pay attention marketers . . . he argues that doing good over doing well will wake our dying world and bring about a recalibration driven by creativity and the people who practice it.
Max Levchin, chief executive of digital lending start-up, Affirm and former co-founder and chief technology officer of PayPal gave attendees four unstoppable trends that he believes are changing the business world, and beyond.
Levchin sees opportunities for companies that provide complete transparency and are committed to doing the right thing for customers, even if it means making less money. If a business or brand can be the first to claim to do what is right for the customer rather than the stockholder, they'll find added business and brand building opportunities.
Artificial intelligence will perform the majority of intellectually demanding routine services. Companies that find ways to incorporate this technology into their businesses model will get ahead.
Having 20-year-old legacy software is virtually the same thing as having no software. The opportunity to innovate new solutions in spaces that are still using old software poses a huge opportunity for innovators.
Changes introduced by the government through laws present opportunities. If you know where to look, you can find hidden pools of capital in the form of government subsidies or penalties that you can help others avoid. There are lots of dollars available to subsidize products. Electronic vehicles and solar energy are two examples. The Affordable Care Act is rife with opportunity. He encouraged attendees to look for places where someone's loss could be opportunities for new capital. Energy, food and water are examples.
Max Levchin wasn't the only person talking about artificial intelligence. It was a common theme at this year's SXSW. Interestingly, it was a common theme the past few years at SXSW, as well. The big difference this year, however, was that the role of skeptic and champion has flipped. In the past, the media has questioned the leaders in the field as they try to explain what's possible. During the session with Nicholas Thompson, editor of the New Yorker and Rodney Brooks, former director of the MIT Artificial Intelligence Lab, it was evident that the media's perception has shifted. Brooks fielded questions on WHEN (not how) the new artificial intelligence advancements will be implemented.
Jonah Berger talked about his new book, Invisible Influence. He described how our behavior is shaped by things we're unaware of. This left marketers with research-based factoids that can help shape strategies and also makes for great dinner conversation. Berger spoke about research showing that people are more successful in achieving their goals if they merely pick a goal and write it down. Sounds simple, but setting and recording goals is actually a true driver of success because it creates commitment and accountability. Think about that the next time you brainstorm a new marketing initiative with your team.
Marketers will be pleased to know that Berger showed how frequency of exposure causes audiences to like something better. The more we see something, the more we like it. This is particularly applicable to the realm of media/advertising, since we are often trying to convince clients and internal higher-ups of the value of increased frequency against audiences.
Brian Solis, the author of "X: The Experience When Business Meets Design," resonated with marketers on the topic of experience architecture and his belief that experiences are fundamental to branding. It may sound a little old hat on the surface, (i.e. Jim Gilmore covered this a decade ago in his great book, The Experience Economy), but it takes on new meaning in today's context. He quoted Maya Angelou, "They can forget what you said, they can forget what you did, but they can never forget how you made them feel."
Solis told how experiences can be little things with enormous impact: the memorable moments we create for customers every day. This overlaps with Micro Moments, a concept that Google is advocating: be present and helpful when customers need you. The five Micro Moments are defined as when you need to 1) learn, 2) buy, 3) know, 4) go or 5) do. Studying the friction points that customers experience in these moments can lead to innovation. Brian believes good experience design comes from developing experiences based on customer's expectations, not our own.
Not everyone can make it to SXSW, and, in truth, it's not for every marketer. What was once a nice Austin-based event, has exploded into a global "it" thing to do. The sheer size of the event makes it difficult to pinpoint what to experience to benefit your career and business. At a private party with a room full of tech CEO superstars, up-and-comers and venture capitalists, one attendee was overheard saying he didn't go to any SXSW sessions. Instead, he went to meetings and parties, and that he'd watch some sessions on YouTube. Follow his lead, and use some of these takeaways to become a better marketer.
Yvonne Tocquigny is chief creative and strategy officer in the Austin office of Archer Malmo (formerly Tocquigny), that provides brand development, advertising, public relations and digital marketing services for national brands across a variety of categories.