SMS + App Push=Increased Customer Engagement
As brands continue to drive more of their marketing budgets into mobile app strategies, they enter a unique channel that comes with its own set of challenges.
While apps dominate consumers' mobile time, it is interesting to note that mobile web has both a greater reach and a greater share of mobile sales. Additionally, app usage outside of social, communications, entertainment and navigation remain very low. These various challenges have left marketers searching for solutions to drive downloads, conversions, engagement and ultimately, business results with mobile apps.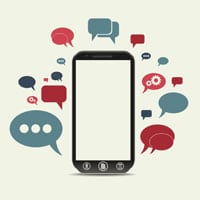 The challenge of app engagement One problem that apps face is the reliance on push notifications as the primary means of re-engaging users who have closed the application. According to Brand Quarterly, consumers "opt out" of push notifications approximately 50% of the time, leaving brands with little engagement potential with half their app users. One study by Accengage shows that only 6% of push notifications result in users engaging with the application. This can be attributed to the overwhelming amount of push notifications that consumers receive—conditioning them to decline the opt-in invitiation when they start the app, or to dismiss the push notification without reading them. This results in brands missing out on significant opportunities to engage with their customers.
A key solution brands are turning to in order to combat the potential challenges of app engagement is the combination of SMS messaging along with the app push experience, which in concert can increase overall customer engagement. By tracking which few customers re-engage based on push, marketers can shift messaging being sent to disengaged users to SMS with deep linking capabilities and drive application usage and reactivation. This powerful combination of digital channels and analytics can increase program and campaign effectiveness through a comprehensive mobile marketing strategy.
SMS is also highly effective as a promotional vehicle for introducing customers to a brand's mobile application. Since SMS messages are delivered on the mobile device, they can create timely opportunities to engage customers and drive application adoption. By utilizing this tactic, brands avoid the challenge of having customers try to find their application in the heavily saturated app stores.
Additionally, SMS is proven to be an extremely effective channel to directly reach customers. SMS regularly enjoys a 90% read rate within minutes of receiving the text message—a far greater success ratio than email marketing.
SMS provides several unique benefits compared to other digital channels that allow marketers to communicate with their customers and build loyalty.
SMS is ubiquitious—consumers are already familiar with SMS, so receiving text messages is not a new behavior they have to adopt.
SMS is not reliant on a high-speed Internet environment, like apps and mobile web sites are, meaning anyone with a mobile number can be reached.
Research shows that consumers demonstrate a preference to engage with a brand's loyalty program through SMS. According to Digital Marketing Magazine, over half (57%) of consumers would be happy to sign up for an SMS-driven loyalty program, and 90% of consumers who have signed up feel they've been valuable.
For these reasons, brands who have explored the omni-channel combination of SMS and the in-app push experience have seen success in optimizing engagement campaigns.
As digitally-focused consumers continue to download branded apps, and as marketers look to utilize apps for customer engagement, brands will continue to look for ways to leverage their investments for business results and growth. Through the inclusion of SMS into their mobile app strategy, brands will enjoy additional customer engagement, increased usage and higher returns from their omni-channel app strategy.
Brian Heikes is vice president, product at 3Cinteractive. He can be reached at [email protected].
Related Articles:
Mobile App is Smooth Sailing for Princess Cruises