Should You Pay Attention to Augmented Reality Marketing?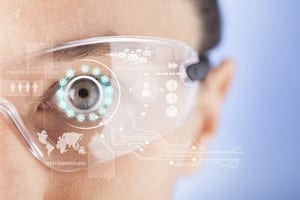 Picture a world in which people never need to look at a map, hire a museum guide, or take an item out of a box to get a better look before purchasing it; augmented reality makes all of this possible and more, though a widespread market release is still some ways off. The idea behind AR is simple: the technology augments our reality by placing digital objects or information into the physical world around us, and people can see these digital elements by looking through AR lenses or even their smartphone camera.
Most AR technologies are still in development or have been released as prototypes, but early studies show great promise for user engagement.
While VR garners more headlines on a regular basis, AR technology is, in fact, receiving more financial support. From a financial standpoint, AR is growing faster too. Researchers at Digi-Capital estimate that the combined VR/AR market will be worth $150 billion in just four years, but the key takeaway here is that this combined $150 billion breaks down heavily in AR's favor. According to Digi-Capital, AR will grab $120 billion of that total simply because AR technology has more implementations than VR, an industry that will mainly operate in the entertainment sphere, does. AR, on the other hand, will redefine many industries, including healthcare, tourism, and, of course, marketing.
Marketing applications for VR are already being explored, but in many ways, the applications for AR marketing are more immediately practical because AR doesn't isolate the user in an entirely virtual world and can integrate with existing marketing campaigns better. Indeed, AR has already infiltrated retail marketing campaigns, from technology that allows you to virtually try on clothes to Ikea's AR Catalogue that lets you see what furniture looks like inside your home. Though these technologies are still prototypes, these marketing applications are promising early examples of AR's potential .
Early studies reported in the Harvard Business Review suggest that AR marketing is a novelty for consumers, and users are initially distracted by the technology. However, over time, that novelty wears off with repeated exposure to AR technology, and AR marketing becomes less about the AR technology itself and more about the product being marketed, especially in contexts where the AR is integrated into an environment. The example used in the study was an AR-integrated mirror at a makeup store that allowed consumers to digitally try on makeup without physically putting it on and taking it off.
Perhaps the most promising statistic for AR marketing is one voiced by Lisa Hu, VP of Blippar, an AR company that helps businesses create AR experiences for consumers. In an interview with Business2Community, Hu explained that "Blippar campaigns have an average dwell time of 75 seconds," a number that is "2.5 times the average of radio or TV ads." While it's still unclear to what degree AR marketing impacts sales and conversion rates from these studies and statistics, there is one thing all three reports agree on: AR marketing increases user engagement, brand exposure, and market awareness.
The key, then, is for AR marketers to find ways to take that increased awareness and convert it to revenue. As Ana Javornik writes for the Harvard Business Review, "the real mission for commercial AR is integrating the technology so that it enhances the customer experience – makes it easier, more fun, and more convenient. We don't want to live in a world where tangible, physical elements are replaced with digital replicas."
The completion of that mission is still years away, but strides are being made today. The Microsoft Hololens, which bridges the gap between AR and VR by combining a VR-style headset with AR's reduced processing power, is on its way, and this technology has the chance to redefine the AR market when it is released. In fact, on June 1st, Microsoft announced that they have made the Windows Holographic platform public so that partners can begin developing applications for the Hololens technology.
In another big June announcement, Lenovo revealed a new smartphone to be released this fall that specifically aims to bring AR to the masses, the first AR hardware of its kind. With these two announcements for new AR tech, it's more apparent than ever that AR, and AR marketing along with it, are poised on a market breakthrough.
Is the widespread use of AR marketing still years away? Yes, but the tides are turning today. New technology and third party integrations are being developed now, and these companies will be the big market players in the years to come. It's time to start paying attention.
Ellie Martin is co-founder of Startup Change Group.