P&G Plans More "Agency-Related" Cuts
P&G, a behemoth when it comes to marketing spend, plans to increase spending on advertising and marketing.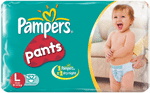 The brand, like others, has moved to a learner organization over the last few years including cutting its roster of about 6,000 agencies by 40%. And the agency cuts may not be over. This year it also plans to reduce agency-related costs by another $200 million. P&G markets well-known brands like Tide and Pampers.
This news comes from Tuesday's earnings release and a call with P&G Chief Financial Officer Jon Moeller. The Wall Street Journal fills us in.
P&G's Move to Omnicom Shadows Bigger Upheaveal
How Jim Stengel Transformed P&G