Nasdaq Creates a Content "Dream Factory"

Nasdaq has increased its social fan base from just over 20,000 a few short years ago to 3 million+, with a content strategy focused on promoting the company as a "dream factory" for entrepreneurs.
"If you're four guys living together in a house in Silicon Valley hustling in a start-up, we're your dream," says Josh Machiz, chief digital officer, Nasdaq.
When he joined Nasdaq six years ago, the company's social strategy was much less sophisticated: Photos from the bell ringing ceremony would get posted a day later, missing opportunities to capitalize on real-time excitement. He turned this around, not only getting content up immediately but consolidating hundreds of Twitter handles into one robust account.
The financial technology company began latching on to the dream factory concept, and creating content around the idea. A team of social media pros and TV hosts was formed, and the latter were trained on how to adapt their traditional media skills to a social setting.
---
More B2B Case Studies:
---
"We really embraced a digital-first kind of thinking," said Machiz, who will be honored with a Rising Star award from Marketing EDGE on June 5 in New York.
Nasdaq's two production studios in Times Square are used to create social experiences surrounding the daily bell ringing ceremonies. "Our incredible access gave us a huge advantage," he says. "Companies are going public every day, people are here ringing the bell and incredible executives are here to tell their story."
Daily content includes features like #TradeTalks on Twitter, where reporters like Jill Malandrino conduct short video interviews on hot news topics. Nasdaq was one of the launch partners for Facebook Live and Facebook Watch, the platform's video on demand service. Today, the company creates original programming for Facebook Watch, like Cultural Capital, an MTV Cribs-type look at innovative office spaces.
Creating programming for Facebook allows Nasdaq to create engaging, timely content. "As we talk, the CEO of 1-800-Flowers is being interviewed live," he says. "We're able to do all the things you see on live TV and create broadcast quality experiences, without a lot of heavy lifting."
The second show for Facebook Watch, Never Settle with Mario Armstrong, launched last fall. The 90 minute show, set in a live studio environment, features interactive elements that gets the audience engaged. Execs from high profile brands like Perry Ellis and Entrepreneur as well as up and coming marketers come in and share their success stories. Live tweets, Facebook posts and Instagram comments are incorporated into the live broadcast. "Online is a two-way conversation—you have to react to comments with something deeper," he says.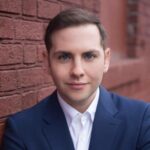 The show recently won an New York Emmy for best interactive broadcast. "Companies won't choose Nasdaq based on a TV show, but it helps humanize us as a brand," Machiz says. "It adds another layer of reality for people."
The target audiences for the content differs by channel—traders are more partial to Twitter, while entrepreneurs are more focused on Facebook. Twitter also seems to be reaching older Millennials, and Facebook is engaging a younger audience, ages 17-36.
"We're thinking about creating aspirational moments and content that embraces the goal line," he notes. "There's no point in creating boring content, because there's enough boring content out there. If it doesn't inspire or educate, there's no point."