Multigenerational Workforce Increases Innovation, Poses Some Communication Challenges
A large percentage of U.S. workers—87 percent—say a multigenerational workforce increases innovation and problem solving.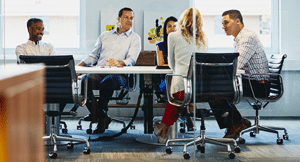 In fact, all workers find a variety of ages to be mutually beneficial, according to Randstad U.S.'s Workmonitor Q2 2018 report. However, the study also found communication is often where the alignment between generations breaks down.
Inspiration trumps age
Most workers prefer an older manager with younger workers (92 percent aged 25-34), seeing the value in being mentored by an older, experienced manager. And 76 percent prefer their direct managers be the same age or older. Even so, an inspirational manager trumps age (84 percent).
---
Other articles you might enjoy:
---
The communications barrier
Despite reporting that all ages is a good thing, communication styles among intergenerational employees is where some challenges can present (81 percent):
• More than a third of workers (38%) admit they find it difficult to communicate with coworkers who are not in their own age group.
• Men are nearly twice as likely as women to report difficulty communicating with coworkers outside of their generation (49% of men, versus 27% of women).
The majority of workers feel their managers are generally effective in managing and working alongside employees from different generations, but there may be room for improvement:
• Eighty-three percent say their direct managers are talented at working together with various generations.
• Fifty-eight percent say their direct managers treat colleagues from various generations differently.
"Part of the challenge of managing effectively is knowing how to relay your message, which requires understanding the individual communication styles of the people on your team and how they approach their work," says Jim Link, chief human resources officer for Randstad North America.
Social connections
More workers prefer to connect with colleagues than their bosses on social media. Not surprisingly, younger workers are particularly engaged with colleagues on social channels (54 percent):
• Only 33 percent connect with their direct managers.
• 75 percent of workers aged 18 to 24 report being connected with colleagues on social media compared to just 33 percent of workers aged 55 to 67.
"There are more generations in the workforce than ever before, which has resulted in a greater variety of expectations around workplace communication. People in different stages of their lives and careers are also motivated in different ways, and managers must work to tailor feedback to help individuals maximize their potential," Link says.