Mission Statement Showcases The 3% Conference's Passion
Many B2B events have thoughtful themes or vision statements for their shows, but few tap into the passion that a provocative issue can create. Can an event model based on a movement apply to your events?
According to multiple studies, female consumers control about 85% of the buying decisions in America, yet women represent just three percent of creative directors in the $33 billion advertising industry. It was a disconnect that for years had troubled Kat Gordon, a creative director herself who five years ago channeled her frustration into an event called The 3% Conference. Today, her passion project has grown from a gathering of a few hundred women (and yes, men, too), into a movement for thousands comprised of live events and online communities, and driven by proprietary research.
Here are some takeaways from the 2016 3% Conference, a sold-out event held last Nov. 3-4 at the Manhattan Center in New York.
Start with a Clear Mission
From its tagline, "Championing Female Creative Talent + Leadership," to its manifesto "Diversity = Creativity = Profitability," to the can't-miss call to action at the entrance to the show, "What are you going to do about it?" it's clear what this show is about and what it wants to accomplish. Do your sales meetings or trade shows rally around lofty themes that sound cool but don't have an implied called to action? Maybe it's time to craft a clear mission statement that motivates and provokes your key stakeholders.
Be Accountable to Your Purpose
Five years ago, three percent of creative directors were women. Today, that number has risen to 11 percent. Gordon kicked off the first morning of the event with an update on the movement and was sure to thank the community for its part in moving the needle. What can your organization rally around all year? What movement can you make members feel part of, and accountable to, that can be celebrated at your annual event?
Focus on the Business Problem
The 3% Conference might look like a woman's conference, but it's far from it. "Our industry is finally realizing that this isn't a woman's problem, it's a business problem," says Lisen Stromberg, coo at the 3% Movement. "This isn't about women leaving to have children or take care of other priorities. Or not being able to hack it. This is a business challenge we have to overcome if we really want to be innovative and successful." Where is there friction in your business, and how can the attendees at your event help fix it?
Give Them Tools to Make Change
Once the event is over, it's up to you to arm your attendees with the tools and resources they need to keep the momentum going back at the office. The 3% Movement offers its community a list of "100 Things" they can do to help drive the three percent number upward, "50 Things" educators can do to help the cause and "20 Things" agencies can do to retain working moms. They even offer a "Manbassador Bingo" card that helps female creatives identify if they have a male in their corner at the office. "We wanted to make sure the information we are providing is hard hitting, inspirational and provided useful takeaways. So people could go back and make a difference," says Stromberg. What action items and to-do lists can you send your sales force or your employees home with?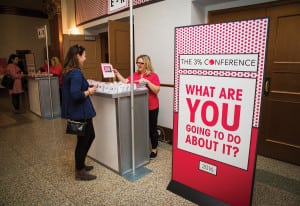 Anchor it with Solid Research
Seem like a stretch to motivate your event around a mission statement? Compelling data for your industry can be a great place to start. Gordon and her team have taken the community survey that started their movement and grown it into a series of studies whose results serve to provoke and motivate the 3% community year-round. Data from the Movement's most recent study, "Elephant on Madison Avenue," acted as a powerful PR and awareness generator in the weeks leading up to the event. What killer data point can inform your event's mission?
Make Each Moment Meaningful
The 3% Conference infused its attendee experience with amenities that were not only engaging, but served a purpose in line with the Movement's mission. Nursing mothers, for instance, could use a fully-stocked Mother's Lounge that offered pumps, a refrigerator and privacy (the message: family friendly environments are a business imperative). And all attendees could have a free headshot taken with a professional photographer to amp up their job search or give them a boost of confidence in their job. "We try and provide solutions that meet you where you are in your career journey," says Stromberg.
Define the Rules of Engagement
The 3% Conference's code of conduct requires that no one is allowed to apologize (a bad habit among women in all walks of life). If you do, you have to donate $1 to the "sorry jar" whose proceeds go to a Kickstarter supporting a documentary on online harassment. Other no-no's: No interrupting and no man bashing. What behaviors, language and traditions at your annual event are actually counterproductive? How can you use some rules of engagement to set the tone at your event?
Map the Content to the Mission
One of the four content tracks at the event was for "Manbassadors," a nod to the fact that the mission can't be accomplished without the explicit support of the men in the industry. One standout session was on why men should mentor women in the workplace. Other tracks included Emerging Talent, HR/Talent and Creative Directors. Can your content offerings be organized so there's a clear path from what attendees learn, to your show's bigger mission?
Jessica Heasley is the content director of Chief Marketer and Event Marketer. A version of this article originally appeared on EventMarketer.com and in the Dec. 2016 issue of Event Marketer.
For more on B2B event marketing, click here.